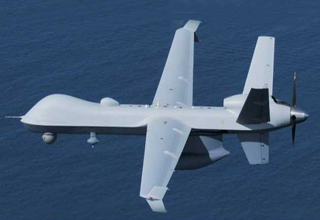 ISLAMABAD, Sep 15 (PTI): Pakistan today expressed concern over the sale of 22 Guardian drones to India by the US and said it would result in strategic imbalance in the region. Foreign Office spokesperson Nafees Zakaria, during his weekly media briefing, highlighted that during Prime Minister Narendra Modi's visit to the US in June, a major deal for sale of Guardian unmanned aerial vehicles (submarine drones) was finalised.
"We had expressed our concerns on the sale of advanced military technologies to India. We believe that such sales accentuate military imbalances in the region and undermine strategic stability in South Asia," Mr Zakaria said.
The US in June cleared the sale of 22 predator drones to India in a deal estimated to be worth $ 2 to 3 billion.
The Guardian is considered to be a "game changer" for the US-India relations as it operationalises the status of "major defence partner". The Guardian has cutting edge technologies that do not do not exist in the current Indian Navy arsenal.