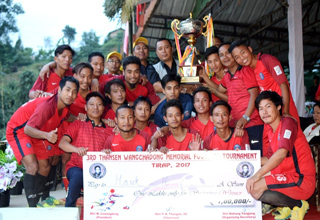 KHONSA, Oct 30: Hawk-16 FC lifted the third Thansen Wanchadong Memorial Football Trophy (TWMFT) beating Borduria FC 2-1 in a nail-biting final at Nehru Stadium, Khonsa on October 29.
Borduria FC's Wangdian Lowangdong-chhu and Nadi Matey of the same team were adjudged the "Best Player" of the tournament and the "Best Goalkeeper."
Tai Bai of HAWK-16, who scored nine goals throughout the tournament, became the top scorer.
Health & Family Welfare Parliamentary Secretary, Phurpa Tsering presented the cash award of Rs 1 lakh along with the coveted trophy to the winning team.
Borduria FC received Rs 50,000 along with the runners up trophy from Parliamentary Secretary (PHED & WS) Kumsi Sidisow.
Individual achievers were awarded cash prize of Rs 8000 each.
The "Best Disciplined Team" award went to Poakkom FC. The team was awarded cash prize of Rs 15,000 by organizing committee president and Adviser to Chief Minister, Wanglin Lowangdong.
Parliamentary Secretary, Phurpa Tsering, on behalf of the Chief Minister, announced the sanctioning of the Nehru Stadium for construction.
He also informed that the state government has already sanctioned Rs 5 crore for infrastructure development of the Zonal General Hospital at Khonsa and assured to sanction a hearse vehicle for Khonsa General Hospital.
Earlier, Tsering paid homage to Rani Maa Late Thansen Wangchadong.
In his speech, Sidisow advised the people of Tirap, Changlang and Longding to avail the benefits of various flagship schemes and programmes of the Prime Minister and Chief Minister.
Replying to a memorandum submitted by the organizing committee of the 3rd TWMFT, Sidisow announced a water tank for Nehru Stadium, Khonsa and construction of EE (PHE&WS) office building at Khonsa.
Adviser to CM Wanglin Lowangdong urged the youths of Tirap, Changlang, Longding, Anjaw, Namsai and Lohit to abstain from using drugs and alcohol.
'The youth must utilize their energy in constructive purposes. They should take part in sports activities to stay physically fit, healthy and mentally sound', he said.
Former AAPSU Spokesperson Tanya Agu also spoke on the occasion.