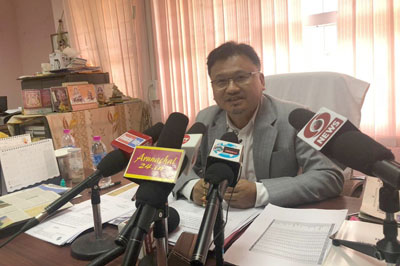 Staff Reporter ITANAGAR, Apr 22: The chief electoral office here on Monday announced fresh polling at 18 polling stations in Kurung Kumey and Kra Daadi districts. The re-polls will take place on 27 April. The announcement came after the weeklong scrutiny and examination of complaints from candidates about booth capturing and...
Kiev, Apr 22: Ukraine took a leap into the unknown Monday as comedian Volodymyr Zelensky was elected president on promises of change but just a vague blueprint of what he might do as leader. Zelensky, whose only previous political role was playing the president in a TV show, trounced incumbent...
Guwahati, Apr 22 (PTI) Preparations are in place for the third and final phase of polling in four Assam Parliamentary constituencies on Tuesday, which will decide the fate of 54 candidates in fray. An electorate of 77,0622, including 38,15,335 male, 36,61,570 women and 157 of the third gender, will exercise...
NEW DELHI, Apr 22: The unprecedented hearing by a three-judge bench following sexual harassment allegations against the chief justice of India (CJI) by a former apex court employee was a "violation of procedure established by law," the Supreme Court Bar Association (SCBA) said on Monday. It requested the full court...
NEW YORK, Apr 22 (AP) — The WNBA is nearly doubling its national TV exposure with a multiyear deal with CBS Sports. CBS Sports Network will broadcast 40 WNBA games beginning next month when the season opens. The Minnesota Lynx vs. the Chicago Sky on May 25 will be the...