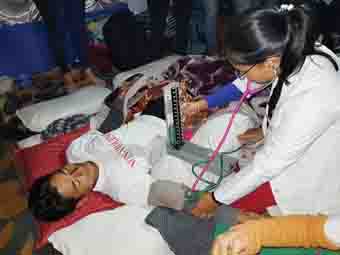 CM, Governor intervene as APPSCCE controversy drags on NAHARLAGUN, Nov 21: The Rajiv Gandhi University (RGU) on Wednesday placed an interlocutory application (IA) in the Itanagar permanent bench of the Gauhati High Court to direct the Government of Arunachal Pradesh to bear all the expenses that will be incurred in...
Chico (US), Nov 19 (AP) Authorities say one more set of human remains has been found, bringing the total number killed in a devastating California wildfire to 77. A state incident report released Sunday evening says the flames destroyed more than 10,500 homes. Over a thousand names remain on a list of...
SHILLONG, Nov 14: The North Eastern Council (NEC), the Research Center for East and North Eastern Regional Studies (CENERS) and Government of Meghalaya with support from various other NE states will jointly organize a seminar on "Power Scenario in North East - Present situation and action plan for a...
Aizawl, Nov 19 (PTI) Congress president Rahul Gandhi and his BJP counterpart Amit Shah would be in poll-bound Mizoram on Tuesday to boost their parties chance in the November 28 election. BJP sources said Monday that Shah would arrive at the Lengpui airport near Aizawl and visit southernmost Mizoram's Lawngtlai, Myanmar-border...
Brisbane (Australia), Nov 21: Leg-spinner Adam Zampa shone with the ball to help Australia register a narrow four-run victory against India in the rain-hit first T20 International in Brisbane on Wednesday. All-rounder Stoinis stroked an unbeaten 33 from 19 balls and then claimed two wickets in the final over as...