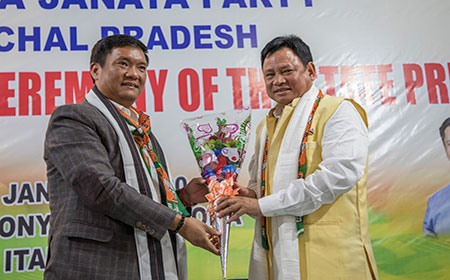 Staff Reporter ITANAGAR, Jan 29: Pakke Kessang MLA Biyuram Wahge formally took over as state BJP president. He replaces MP Tapir Gao as party president. Wahge has served the state BJP in distinct capacities since 2000. He was the state BJYM general secretary from 2000-03; the state BJYM vice-president from 2003-05,...
London, Jan 29 (PTI): A joint motion, combining five different resolutions tabled by Members of the European Parliament (MEPs) against India's Citizenship Amendment Act (CAA), has been placed on the final agenda for debate at the Plenary session in Brussels on Wednesday. The motion takes note of the United Nations...
Imphal, Jan 29 (PTI) Three policemen including a sub- inspector have been placed under suspension after a cadre of a militant outfit was found dead in a lock-up in Manipur's Kangpoki district, a senior police officer said on Wednesday. A mob on Wednesday had stormed the Kangpoki police station and...
New Delhi, Jan 29 (PTI): The Union Cabinet on Wednesday approved amendments to the bills on National Commission for Homoeopathy and the National Commission for Indian System of Medicine, accepting recommendations of a parliamentary panel. Under the proposed amendments, the boards of the two bodies will now have more representatives...
Hamilton, Jan 29: Rohit Sharma smashed consecutive sixes in the final two balls of the thrilling Super Over, leading India to their maiden T20 series win in New Zealand following a nerve-wracking finish in the third match here on Wednesday. Needing 18 off six balls in the Super Over, India...