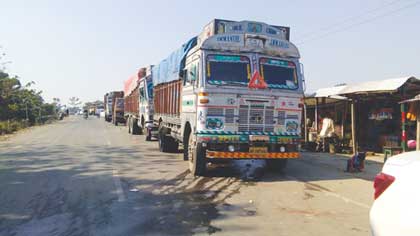 Staff Reporter NAMSAI, Jan 20: The All Moran Students' Union (AMSU) and the AMSU-Lekang Regional Committee (LRC) have together launched an economic blockade in eastern Arunachal and Dibrugarh and Tinsukia districts of Assam, halting all commercial vehicles at the entry points, from around 6 am on Sunday. While the AMSU is...
Islamabad, Jan 18 (PTI) Justice Asif Saeed Khosa Friday took oath as the 26th Chief Justice of Pakistan in a simple ceremony held here at the President's House which was also attended by foreign dignitaries, including from India. President Arif Alvi administered oath to the new Chief Justice who took...
GUWAHATI, Jan 19: Protests against the citizenship amendment bill (CAB) showed no sign of waning in Assam on Saturday as agitators staged semi-clad protests in Tezpur, took out women's rally in Tinsukia, and organised a citizens' meeting in Guwahati. In Tezpur town of Sonitpur district in lower Assam, activists of...
NEW DELHI, Jan 18: The dates for the Lok Sabha (LS) elections are likely to be announced in the first week of March, sources indicated on Friday. The term of the present Lok Sabha ends on 3 June. The Election Commission is in the process of deciding the number of phases...
Melbourne, Jan 18 (PTI) Mahendra Singh Dhoni rekindled his love affair with final flourishes, anchoring India to their maiden bilateral ODI series triumph in Australia for a perfect finish to a historic trip Down Under here Friday Virat Kohli's men became the first country to return from Australia without losing...