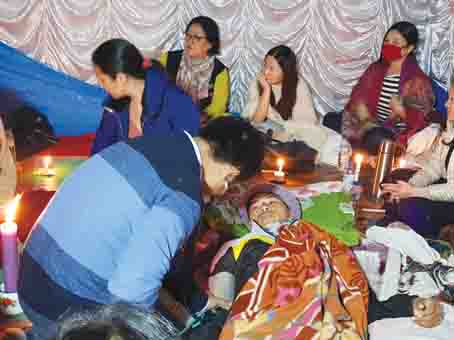 ITANAGAR, Nov 19: Governor BD Mishra took note of the demands of the agitating candidates a day before the Arunachal Pradesh Public Service Combined Competitive (Mains) Examination (APPSCCE) concludes on Tuesday. The governor assured to look into the ongoing APPSCCE controversy after the Arunachal Pradesh Congress Committee (APCC) submitted a...
Chico (US), Nov 19 (AP) Authorities say one more set of human remains has been found, bringing the total number killed in a devastating California wildfire to 77. A state incident report released Sunday evening says the flames destroyed more than 10,500 homes. Over a thousand names remain on a list of...
SHILLONG, Nov 14: The North Eastern Council (NEC), the Research Center for East and North Eastern Regional Studies (CENERS) and Government of Meghalaya with support from various other NE states will jointly organize a seminar on "Power Scenario in North East - Present situation and action plan for a...
Aizawl, Nov 19 (PTI) Congress president Rahul Gandhi and his BJP counterpart Amit Shah would be in poll-bound Mizoram on Tuesday to boost their parties chance in the November 28 election. BJP sources said Monday that Shah would arrive at the Lengpui airport near Aizawl and visit southernmost Mizoram's Lawngtlai, Myanmar-border...
KOWLOON (Hong Kong, Nov 13: Former Commonwealth Games champion P Kashyap made a solid start to his campaign, defeating Chinese Taipei's Hsu Jen Hao in the qualifying round of the Hong Kong World Tour Super 500 tournament in Kowloon in Hong Kong on Tuesday. Kashyap, who has been battling a...