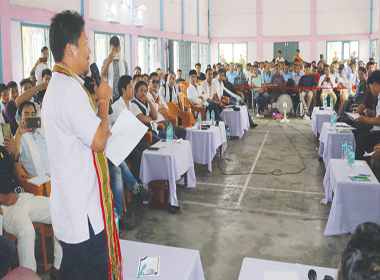 DIYUN, Jun 17: The All Arunachal Pradesh Students' Union (AAPSU) has said neither it nor the indigenous people of the state would accept granting of citizenship rights to Chakma and Hajong refugees in the state. AAPSU president Hawa Bagang made the union's stand clear during a meeting with representatives of...
Kathmandu, Jun 17 (AFP) Decades of commercial mountaineering have turned Mount Everest into the world's highest rubbish dump as an increasing number of big-spending climbers pay little attention to the ugly footprint they leave behind. Fluorescent tents, discarded climbing equipment, empty gas canisters and even human excrement litter the well-trodden...
NEW DELHI, Jun 17 (PTI): Some parts of north and northeast India got some breather from hot weather conditions after it rained today, while the flood situation in Assam deteriorated affecting more than 4.5 lakh people. The weather department has predicted rain and thunderstorm late tonight in Delhi and adjoining...
NEW DELHI, Jun 17: The fourth meeting of NITI Aayog's governing council began here on Sunday with the main agenda of deliberating upon measures taken to double farmers' income and the progress of the government's flagship schemes. Prime Minister Narendra Modi is chairing the meeting, which is being held at...
MOSCOW , Jun 17(AP) — Germany became the third defending champion in the last 16 years to lose its opening match at the World Cup, falling to Mexico 1-0 Sunday. Hirving Lozano scored the lone goal in the 35th minute, picking up Javier Hernandez's pass inside the penalty area and...