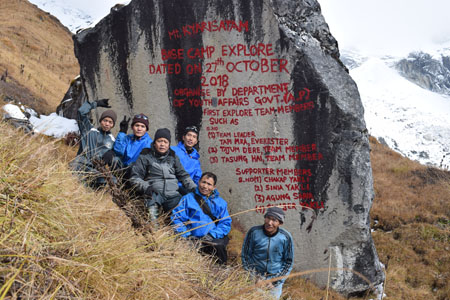 ITANAGAR, Dec 15: Remains of earthen pots, the carved feature of a human face on a rock, and sharp objects fashioned out of stones have been found in East Kameng district. The objects were discovered by Everester Tapi Mra and his team while exploring the base of Kyarisatam, a perennially...
Paris, Dec 15 (AFP) "Yellow vest" demonstrators began gathering on the Champs-Elysees in Paris on Saturday morning for a fifth weekend of protests in defiance of calls by the French government to stay home. President Emmanuel Macron, facing the biggest crisis of his presidency, announced a series of concessions on...
Agartala, Dec 15 (PTI) The Tripura University has detected an anomaly amounting to Rs 10 crore in procuring of e-books and has formed a committee to investigate into the matter, a top official said Saturday. The anomaly came to light during the tenure of former Vice Chancellor Anjan Kumar Ghosh,...
New Delhi, Dec 15 (PTI) The government moved the Supreme Court swiftly Saturday seeking correction in the Rafale jet judgement about reference to CAG and PAC as it felt any delay would escalate confusion and give fresh ammunition to the opposition, sources said here. The Centre told the top court...
Perth, Dec 15 (PTI) Skipper Virat Kohli played a pivotal role with a workmanlike 82, lifting India from a double blow at the beginning of innings to 172 for three in the second Test against Australia here Saturday. Kohli's unbeaten knock coupled with Ajinkya Rahane's counterattacking 51 helped India to...