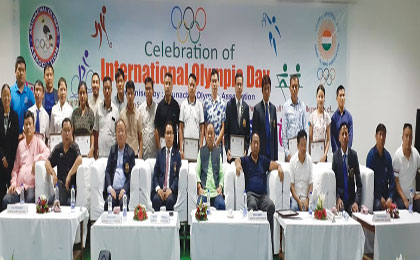 Staff Reporter ITANAGAR, Jun 23: The Arunachal Olympic Association (AOA) on Sunday celebrated the International Olympic Day by felicitating the state's coaches in recognition of their meritorious services towards the growth and development of games and sports in the state. As many as 17 coaches and instructors from different disciplines were...
ROME, Jun 23 (AFP): Qu Dongyu on Sunday became the first Chinese national to be elected to head the UN's Food and Agriculture Organization, clinching the post in the first round of voting. Qu, 55, a biologist by training, won 108 votes, followed by Catherine Geslain-Laneelle of France with 71...
Aizawl, Jun 21 (PTI) A local court Friday ordered that eight Rohingya girls, who were rescued by the Mizoram Police from Dungtlang village in Champhai district, should be sent to a protection home in Aizawl, police said. Champai district is located near the Mizoram-Myanmar border. The court instructed the police and...
NEW DELHI, Jun 23: Seeking to give more teeth to the National Investigation Agency (NIA), the government plans to amend two laws to allow it to probe terrorist acts against Indians and Indian interests abroad. The union cabinet will take a call on Monday on amending the NIA Act and...
Hiroshima, June 23 (PTI) Indian women's hockey team head coach Sjoerd Marijne Sunday said his players dished out a perfect game against hosts Japan in the summit clash of the FIH Series Finals here. India beat Asian Games champions Japan 3-1 in the final match Sunday to clinch the title....