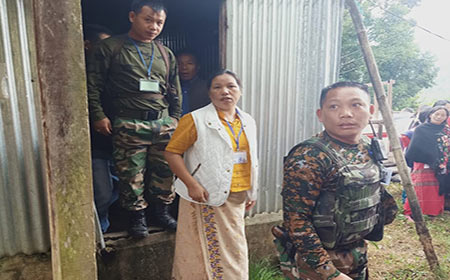 Staff Reporter ITANAGAR, Oct 21: The voting in the bye-election to the Khonsa West assembly constituency in Tirap district went peacefully on Monday. The polling saw a high voter turnout of 89 percent, according to the office of the state's chief electoral officer (CEO). Tirap DEO PN Thungon said 20...
Islamabad, Oct 21 (PTI) The Pakistan military has rejected as "false" the Indian Army's assertion that it targeted at least three terror camps in PoK and said India is welcome to take any foreign diplomat or media to the site to "prove" its claim on the ground. Indian Army chief...
Barpeta, Oct 21 (PTI) At least 13 people were injured, two of them seriously, in a blast in a fire cracker manufacturing factory in lower Assam's Barpeta district on Monday, officials said. The workers of Assam Fireworks Industry were manufacturing firecrackers when a sudden blast occurred and the fire injured...
New Delhi, Oct 21 (PTI) Describing Pakistan as the "epicentre" of global terrorism, BJP general secretary Ram Madhav on Monday said India's neighbour is now not only its problem but has become a "global challenge". Madhav said the democratic world should come together and pursue Pakistan to act again terrorism,...
Paris, Oct 21 (PTI) World champion P V Sindhu would look to snap her recent run of early exits when she begins her women's singles campaign at the USD 750,000 French Open badminton tournament, beginning here on Tuesday. Since claiming her maiden World Championships title in August, Sindhu has looked...