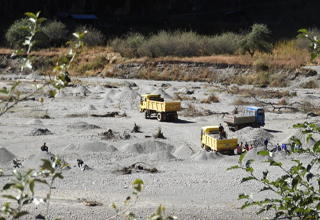 ITANAGAR, Nov 22: There is persistent sand and gravel mining in Zemithang in Tawang district including the stretch which is the winter habitat of the Black-Necked Cranes. Locals say that the three kilometers stretch from Brokenthang to Zemithang on the Nyamjang Chhu, which is the site of the wintering...
WASHINGTON, Nov 22 (PTI): The Global Entrepreneurship Summit 2017 being hosted by India along with the US is a testament to the "strong friendship" between the two countries, US President Donald Trump's daughter and adviser Ivanka Trump said today. Ivanka, 36, is headed to India after the Thanksgiving ritual. She is...
Guwahati, Nov 22 (PTI) Popular Assamese film and theatre actor Biju Phukan died this evening in a private hospital here following cardiac ailments, his family said. He was 69. The hero of Assamese film industry was admitted to the ICU of the hospital with breathing difficulty around 4.30 pm and passed...
New Delhi, Nov 22 (PTI): In a major milestone, the Brahmos supersonic cruise missile was on Wednesday successfully test fired for the first time from the Indian Air Force's frontline Sukhoi-30 MKI combat jet, significantly bolstering the country's aerial prowess. The armed forces are now capable of launching the Brahmos,...
GUWAHATI, Nov 22: Indian boxers remained on course for their best ever performance at the AIBA Women's Youth World Championships, adding five more medals to the already assured two on the day of quarterfinals in Guwahati. Jyoti Gulia (51kg), Shashi Chopra (57kg), Ankushita Boro (64kg), Nitu (48kg) and Sakshi Choudhary...