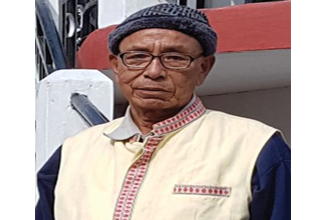 ITANAGAR, Nov 24: Former Koloriang MLA Lokam Tado passed away early this morning at his Chimpu residence, Itanagar after a brief illness.
He left behind his wife, two sons and two daughters.
Born on January 1, 1955 at Saitam village under Damin Circle of Koloriang Assembly Constituency of erstwhile Lower Subansiri district, Tado contested the Assembly election in 1978 from PPA party. He was elected as MLA in 1980 from INC (I) Party.
Meanwhile, condolences poured in from leaders, various organizations and NGOs as soon as the news of Tado's demise spread.
Expressing profound grief over sudden demise of Tado, Chief Minister Pema Khandu in his condolence message said, "Tado was a very gentle, soft-spoken, hardworking and a dedicated first generation leader of the state. In his demise not only the Nysihi community has lost one of its luminaries, the state's nascent political history has also lost a chapter."
Pema, who is currently on tour of Anjaw district, conveyed his deepest condolences to the bereaved family members and the people, especially those of Koloriang Assembly constituency, whom he represented in the Legislative Assembly from 1980 to 1984.
Son of Late Lokam Tarin, he had succeeded Late Chera Talo, the then elected representative of the constituency in 1980 when the strength of the Legislative Assembly was only 33. While 30 were elected representatives, 3 were nominated during the Union Territory days of the state.
Former Chief Minister and Sagalee MLA Nabam Tuki described Tado's demise a great loss for the people of state.
"He was a man of principle and will always be remembered for his simplicity," Tuki said.
Parliamentary Secretary (Home & Education) and Koloriang MLA Pani Taram said that he was deeply saddened by the death of Tado and termed his demise as great loss for the people of Koloriang constituency in particular.
Former Koloriang MLA Lokam Tassar recalled Tado as perfect gentleman and man of principle. He said that the vacuum created by his death would be difficult to fill.
Former Minister and PPA President Kafha Bengia said, 'Tado was a true nationalist and his favorite (national) song was Vande Matram'. His demise is a great and irreparable loss for the family, society and state as whole, he said.
"Tado was a straightforward person and always maintained a simple life. His services to the community and state will always be remembered by all," he recalled.
Arunachal Pradesh Congress Committee (APCC) expressed grief over death of Tado and conveyed sincere condolence to the bereaved family members to withstand the tragedy.
All Nyishi Students' Union (ANSU) also mourned the death of Tado and prayed for eternal peace of the departed soul. ANSU President Toko Takam said that Tado's death is a huge loss for the state.
"Tado was the torch bearer of Lokam community, who founded the Lokam Welfare Society (LWS) in 2003. In his death, we have lost a guardian. It will be very difficult to fill the vacuum created by his demise, said Lokam Welfare Society (LWS) Chairman Lokam Mangha.
All Kurung Kumey District Students Union (AKKDSU) and Koloriang Damin, Parsi Parlo & Sarli Students Union (KDPSSU), Itanagar Market Welfare Association (IMWA) also deeply mourned the death of Tado.