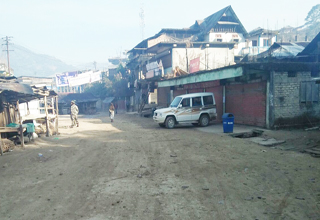 PALIN, Dec 22: The 12-hour Kra Daadi district bandh clamped by the All Kra Daadi District Students' Union (AKDDSU) paralyzed normal life on 20 December.
The roads wore a deserted look with no vehicle plying during the bandh period. Shops and schools remained closed while government offices registered thin attendance.
The union has threatened to clamp a 24-hour bandh in the second phase, which will be announced shortly, if its demands are not met.
The AKDDSU is demanding the resignation of Chief Minister Pema Khandu over his alleged abusive remark on Palin MLA Takam Pario; 'immediate' functioning of the government degree college in Palin; establishment of a district hospital in Palin; at least two ambulances and a mortuary van for Tali and Palin; allocation of funds for additional classrooms, toilets, and auditorium, and erection of boundaries around the government secondary schools in Tali and Palin; and construction of a road to Tali.