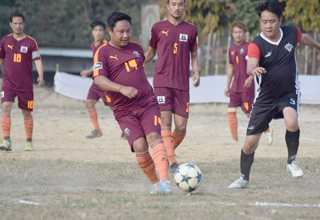 NAHARLAGUN, Feb 17: Petwa United Football Club (PUFC) defeated Athletico De Model Football Club (ADMFC) by 3-0 goals in the ongoing Maruti Suzuki Nexa Model Super League 2018 at the Model Village football ground here on Saturday.
The first goal for PUFC was scored by Tatbang Pertin in the very last minute of the first half.
In the second half, Taba Tajab and Taw Akash scored for their team in the 50th and the 65th minute, respectively.
Akash was declared Man of the Match.
The next match is scheduled to be held next Saturday from 1 pm onwards.