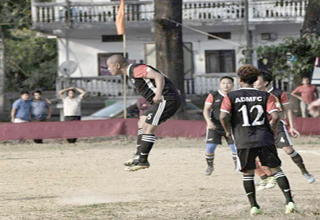 NAHARLAGUN, Feb 24: Commando FC trounced Atheletico De Model Football Club (ADMFC) by 3-0 in the ongoing Maruti Suzuki Nexa Model Super League 2018 at the Model village football ground here on Saturday.
Pani Kuna of Commando FC was declared 'man of the match'.
In the second match of the day, Petwa United FC lost its first match in the league to the Black Warriors FC 2-5.
The 'man of the match' was awarded to Taku David of Black Warriors FC.
The semi-finals of the league will be held on Saturday next.