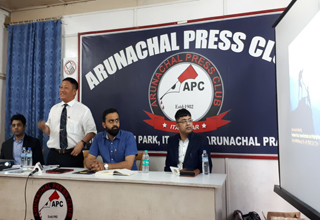 ITANAGAR, Mar 25: The Alternative Learning System (ALS) in association with Avanti and supported by Delhi-based NGO Helping Hands will launch engineering and medical coaching centres for IIT JEE/NEET entrance examinations in Itanagar and Ziro.
This was informed by Robin Hibu, IGP, Rashtrapati Bhavan, and founder of Helping Hands while addressing a press meet at the press club here on Saturday.
"We want to provide an opportunity to the youths of the state to compete with the best of the country through this initiative. The focus under this initiative will be primarily on biology, chemistry, physics and mathematics as an NCERT survey has pinpointed that the performance of state's students is very poor in maths," he said.
While pursuing coaching outside of the state involves expenditures upto Rs 2 lakhs, the ALS will offer coaching for only Rs 50,000 per student, with state-of-the-art facilities, Hibu said.
He expressed confidence that the centre would change the state's education scenario, and urged aspiring students to avail this opportunity at their doorsteps.
Hibu informed that the NGO will set up a Helping Hands school in Ziro, with facilities like education, entrepreneurship, sports and skill development programmes to reverse the trend and have students from the rest of India flocking to Ziro instead of students from the NE going to the mainland for higher studies.
"The vision of the institute is to bring out the best talent and facilitate them to prepare for engineering and medical entrance examinations," said Prateek Bhattacharya of the ALS.
Many students after passing out of Class 10 are confused about which stream to opt for due to lack of money and counselling, he said, adding that the parents are unable to send their children to other states for further studies.
Bhattacharya said the ALS will provide counselling and coaching to the low income groups to help them fulfill their dreams.
"Instead of Rs 2 lakhs, the same IIT/medical coaching will be made available at Rs 50,000, i.e., Rs 2,000 per month," he said.
Bhattacharya also reiterated his promise to ensure that 10 Arunachalee students crack the IIT exam by 2020.