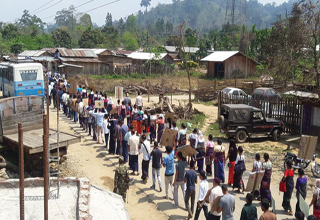 [ Indrajit Tingwa ]
MIAO, Apr 2: A massive protest rally was held here in Changlang district to protest the threat and intimidation meted out to Changlang Zilla Parishad Chairman Jowkhong Singpho by one Damthing Tangkhul of the NSCN (IM) for the past two years, and very recently on 18 April.
Singpho, who is also the president of the Singpho Development Society (SDS), was allegedly threatened with dire consequences by Tangkhul on the phone on 18 March for working against the banned outfit.
The peaceful protest rally was organised under the aegis of the SDS by the Singpho Youth Organisation, the All Bordumsa Singpho Students' Union, the Pan Singpho Students' Union, and the Singpho Women's Organisation.
Over a thousand people from various Singpho-inhabited areas of Changlang and Namsai districts of Arunachal Pradesh and parts of Assam participated in the rally.
Members of the All Tai Khamti Singpho Students' Union also participated in the protest rally, along with members of the Tangsa, Yobin, Galo, Gorkha and other neighbouring communities. The business community of Miao also participated.
The organisers later submitted a memorandum to ADC Tage Rumi, addressing it to the state home secretary.
The memorandum sought immediate intervention of the home secretary to provide security cover for Singpho; urgent measures to halt the illegal taxation by underground groups in Singpho-inhabited areas in Changlang district; and ensuring the end of threat and intimidation to the Singpho people by underground groups and non-state actors.
It also said that apart from telephonic threats to the ZPC, armed cadres were also sent on many occasions previously to physically intimidate Singpho, adding that the cadres did not even spare his family members.
In December 2016, Singpho's house was vandalized by members of the group.
'We consider the threat to the president of the apex Singpho organisation as well as a prominent member of our society willful intimidation on the entire tribe,' the memorandum read.
The memorandum also stated that this was not an isolated or stray incident, and that such criminal activities by armed cadres have been going on unabated, while many such cases have gone unreported because of the fear of the gun.
Seeking immediate intervention of the home secretary, the organisations said that failure to bring back the sense of security and confidence among the people would lead to continued protests.