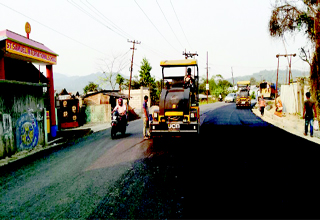 Staff Reporter
ITANAGAR, Apr 4: The construction of two lanes road in the Harmuty-Kola camp and Doimukh-Bage Tinali stretch is being hampered in some stretches due to obstruction from the public. Reportedly in areas like Rono, Kola camp, Gumto, the locals are creating hurdle by refusing to vacate from Right of Way (ROW).
The construction agency NTLLP-ECI (JV) has informed Papum Pare district administration in writing about it.
The construction of Harmuty-Kola camp and Doimuikh-Bage Tinali road is being taken up by National Highway Infrastructure Development Corporation Limited (NHIDCL under Ministry of road, transport and highway.
Deputy General Manager (DGM) NHIDCL Hibu Tade who is looking after the project informed that renovation and up gradation work is progressing rapidly.
"Till date, the work is going on as per schedule and we hope that the contractor continues to carry out the work as per contract agreement. The construction of drainage is also as per the specification. Infact, this project is progressing at much faster pace as compared to other projects," said DGM Hibu Tade.
The Harmuty-Kola camp and Doimuikh-Bage Tinali road project was approved by government of India under NEC scheme at an estimated cost of Rs 58 crore and was tendered through NHIDCL.
The NTLLP-ECI (JV) Proprietor Nabam Tullon said formation cutting from Harmuty to Kola camp measuring 14.37 KM is almost complete except in forest area on Assam side and at Kola camp. He also added that some local issues which forced work to stop at Kola camp is being resolved and work is about to start.
"We are ready to complete project on time but administration need to clear the space and make land free from all encumbrance. We also desperately need the support of local community to make this project a success," he added.
When asked about the few portion of CC road near Bage Tinali which has not been touched yet, Deputy Project Manager DK Bhuyan informed that portion measuring around 150 mtrs would be renovated and widened with proper drainage system.
There are 38 culverts under the project, of which six new. Three of these culverts have been completed, out of 15 for reconstruction, eight is competed but in case of renovation/widening of 17 culverts, only 4 have been completed and remaining are yet to start as the portion of stretch are in the Assam side.