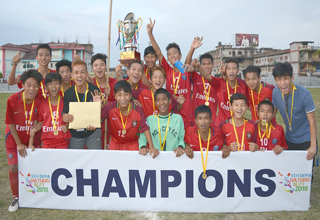 NAHARLAGUN, May 3: Polocity FC defeated Arunachal SC (2)4-3 (2) through penalty shootout in the final match to win the 5th Dera Natung SLFT- 2018 here on Thursday.
Earlier, both teams scored a 2-2 draw till the end of regulation period and extra time.
Yura Tarung and Gida Racho scored for Polocity FC, while Gyammar Nikum and Jacky Rapung netted for Arunachal SC. Polocity FC's goal keeper made two brilliant saves in the penalty shootout to secure his team's win.
Further, Kabak Tatak and Heri Rambo of Kamle DFA won the best goal keeper and highest scorer awards respectively, while Yura Tarung of Polocity FC was adjudged the best player of the tournament. Kamle DFA also received the best fair play team award.
The closing ceremony was attended by UD Deputy Director, Gyammar Tachung and SAA Chairman, Bamang Tago along with executive members of the Arunachal Pradesh Football Association.