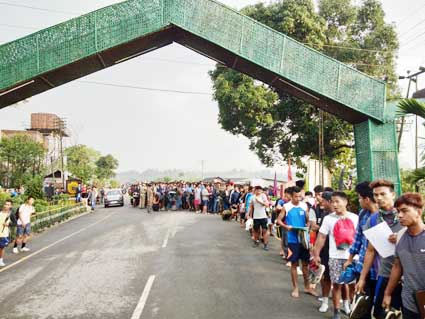 Correspondent
JAIRAMPUR, May 10: The Indian Army recruitment rally being conducted by the ARO Jorhat witnessed 4300 participants from 23 districts of Arunachal Pradesh striving for the post of sepoy (ground soldier duties), sepoy (technical), sepoy (clerk) and nursing assistant.
DDG recruiting Brigadier VM Sharma, flagged off the mammoth rally here on Thursday
The rally is being organised with the help of the Lekhapani Army Brigade under the aegis of Dao Army Division which carried out the necessary liaison and arrangement with the civil administration for the mega event.
Director Recruiting, Col RK Singh, YSM in-charge of recruitment in Arunachal Pradesh has acknowledged the tremendous effort from the local army formation and civil administration for extending their full support for the successful conduct of the army recruitment rally, which will culminate on 13 May.
Jairampur ADC SS Choudhory was also instrumental in helping the aspiring candidates of 51st Nampong Assembly Constituency to register online, which was a mandatory step for participating in the rally.
A month earlier, Choudhory issued an official decree instructing all cyber cafes of the region to assist the aspiring candidates to register online. He also opened the door of his office for the same purpose.
With the extra effort put up by the ADC and his team, maximum numbers of eligible rural youths are trying their luck in this three-day recruitment rally.
"In the past, due to lack of information, many eligible youths missed the opportunity of a lifetime, I did not want such a thing to happen on my watch," Choudhory shared on the sideline of the recruitment rally.
Choudhory made sure that the information was relayed to the aspiring candidates in advance so that they got enough time for physical preparation. He relayed the information through the PRI members, public leaders, gaon burahs, principles, headmasters, teachers in-charge and HoDs.
He also directed the administrative heads of Nampong and Manmao to personally monitor the publicity process and initiate suitable action to ensure maximum registration of youths.
It must be mentioned that it is for the first time that an exclusive recruitment rally for the local youths of the state is being organised in this sensitive and insurgency affected part of the state.