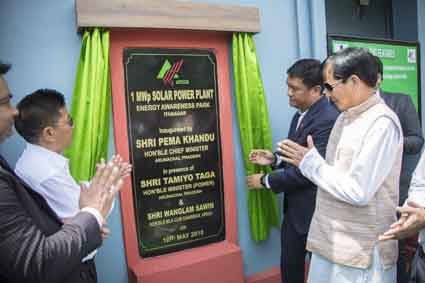 APEDA installs solar plant at Energy Park
ITANAGAR, May 10: Chief Minister Pema Khandu has encouraged the government departments to use solar power and assured support of the state government in initiatives that are environment friendly.
He said this on Thursday after inaugurating the 1-MWp grid connected solar photovoltaic power plant here at the Energy Awareness Park.
Stated to be the largest solar power plant in the state, it is built at a cost of Rs 8.50 crore by the Arunachal Pradesh Energy Development Agency (APEDA) with incentive grant under the 13th finance commission.
The chief minister appreciated the efforts of the APEDA in making use of solar power to generate energy and in feeding power to the grid, which will cut down energy costs.
He said, "As the world grapples with global warming, the use of renewable sources of energy is the best way to prevent it" and emphasized on activities, which are environment friendly.
He said under Prime Minister Narendra Modi, the country is looking towards green energy and slowly phasing out use of non-renewable sources of energy.
Power Minister Tamiyo Taga and APEDA Chairman Wanglam Sawin were present during the event.