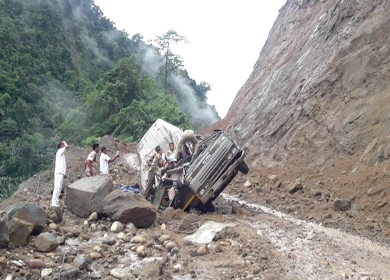 Staff Reporter
ITANAGAR, Jun 29: Four ITBP jawans were reportedly crushed to death and nine others were injured when a landslide-triggered boulder fell on a bus carrying personnel of the 49th Bn ITBP, about 6 kms from Lower Siang HQ Likabali on Friday.
Sources informed that the accident occurred along the Likabali-Basar stretch of the Trans-Arunachal Highway when a huge boulder fell and smashed into the moving bus, belonging to 49th Bn ITBP, Basar, killing at least four personnel, including the driver, and seriously injuring nine others.
The 20-member ITBP team was reportedly travelling in the ill-fated bus from Basar to Likabali. The injured were later taken to the hospital in Likabali for treatment.
Travelling along the Likabali-Basar road has become highly dangerous due to the rapid earth-cutting work being carried out for the construction of the Trans-Arunachal Highway.