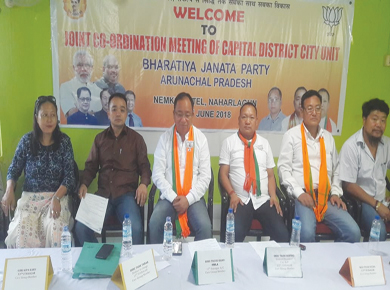 NAHARLAGUN, Jun 30: UD Parliamentary Secretary Techi Kaso called on BJP leaders to maintain discipline and carry forward the party's ideology while working sincerely for the common development of the area and welfare of the masses.
He said this during a joint coordination meeting of the BJP's city unit at a city hotel here on Saturday.
The meeting was held to discuss various issues pertaining to unity and integrity of party members, and to strengthen the party cadres for the upcoming assembly elections.
BJP secretary and capital district unit in-charge Tarh Tarak motivated party cadres to work sincerely, without fear and favour, for the development of the state, and gave a clarion call to get ready for any election in the state.
BJP city unit president Tarh Soping presented a brief on the activities of the unit in strengthening the party in the capital area.
State BJP vice president Tame Phassang, senior leader Techi Necha, former IMC chief councillor Kipa Kaku, and former IMC deputy chief councillor Tarh Nachung also offered their suggestions to strengthen the party in the state capital.