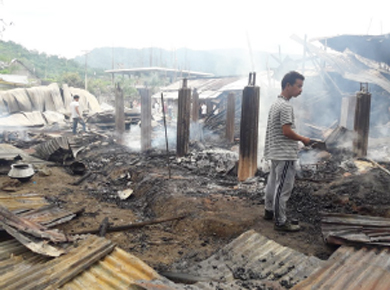 [ Karda Natam ]
DAPORIJO, Jul 3: Six families were rendered homeless after their houses were reduced to ashes in a fire that broke out at Forest Colony here around noon on Monday.
Reportedly, the fire started in a kitchen and devastated four houses.
Household properties worth lakhs of rupees, including local ornaments, perished in the fire. However, there were no reports of any casualty.
Local MLA Dikto Yekar visited the affected families and assured them of all possible help from his side. He appealed to the district administration to provided immediate relief to the affected families.
The Bagang Abu Youth Welfare Society also appealed to the government to provide assistance to the affected families.