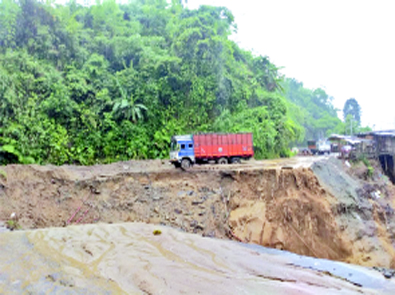 Staff Reporter
ITANAGAR, Jul 25: The road connecting Itanagar and Naharlagun near hotel Sango collapsed completely on Wednesday at around 5.30 AM due to heavy rainfall, hampering regular traffic movement.
Currently, traffic movement has been diverted through the Jullang road till the road is restored.
DDMO Moromi Sonam informed that the TK Engineering technicians have assured to restore the road by Thursday evening, provided that the weather is favourable and if they are able to work throughout Wednesday night.
"Excavators and other heavy machineries have been pressed into action to restore the road at the earliest. A new road has to be cut-out at this point and it could take some time. We are also in constant touch with all technical departments, including the PWD", she said.
Meanwhile, it was informed that vehicles are being diverted through the Jullang road from Naharlagun, and many are also taking the Ganga or Chimpu route to reach Itanagar town.
On apprehension regarding the sinking zone on the Jullang road (near Ganga), she said that the road was "safe for now, but we cannot predict natural disasters".