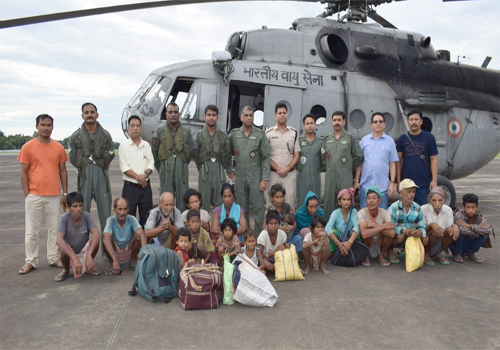 Staff Reporter
ITANAGAR, Aug 31: A five-member crew of the Indian Air Force (IAF) rescued 19 persons including seven minors from the Jampani grazing area near Sika Tode/Sika Bamin villages in East Siang district on early Friday morning.
The evacuees were provided with medical checkup and counselling by the district administration.
"So far, no human casualty has been reported; however, cattle casualties cannot be ruled out as cattle sheds are submerged in the floodwater," DDMO Genden Tsomu said.
Using an Mi-17 helicopter, which was launched from Mohanbari, Assam, the IAF started the rescue operation at 4:45 am, and it was over by 6:10 am. It took six sorties to rescue the stranded persons.
The district administration had sought the support of the IAF to rescue the people stranded on an isolated island in flood-affected Siang river at Jampani on the evening of 30 August.
The quick response team of the district, under the supervision of the SP, has been monitoring the situation since Thursday. A column from the 307 Medium Regiment of the Sigar military station, led by Maj APS Kandari, rendered logistic support in the rescue operation, said a report from the DDMO.
One Tageng Nyitan of Bamin village accompanied the IAF chopper in the rescue mission, the report added.
Later, DC Tamiyo Tatak, MP Ninong Ering, and SP Prashant Gautam met the evacuees at the Pasighat ALG.
On Wednesday, the district authority had said that the Siang river was swelling due to heavy rainfall in the Chinese portion. The DC has cautioned the people living in low-lying areas of the district to remain alert.