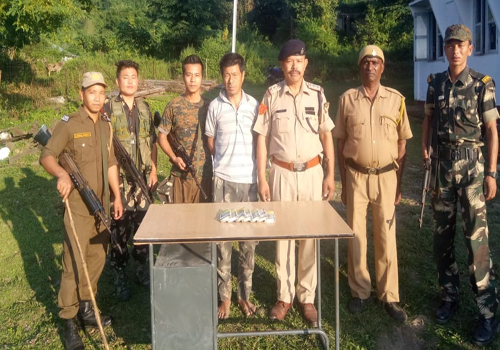 WAKRO, Oct 23: A customer of the State Bank of India (SBI) looted Rs 3,51,300 from the bank's branch here in Lohit district on Monday, but was apprehended by the police within half an hour of the crime.
Reportedly, the accused had visited the bank to withdraw cash on Monday, but was informed that his account had insufficient fund.
The accused then allegedly damaged and broke the glass panes of the cash counter with a machete (dao), and took away Rs 3,51,300 from the drawer of the cashier before fleeing from the bank.
The bank's Branch Manager, Abhijeet Das, immediately lodged a complaint at 12.15 pm at the police station here.
A case was registered and investigation was launched by Officer-in-Charge, Inspector Thomas Pertin, with his police team and personnel of the 5th IRBn.
Within minutes, the accused was tracked down to his residence, and was surrounded by the police team.
According to reports, the accused attacked the advancing police team with his machete, but the team managed to snatch his weapon and overpower him.
The police recovered Rs 3,50,000 by 12.40 pm, and took the accused in custody.