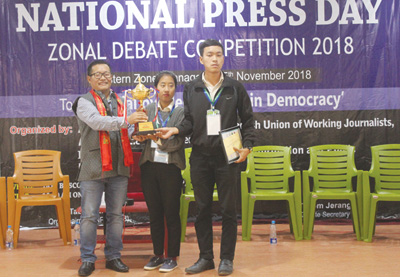 DBC wins west zone debate competition
Staff Reporter
ITANAGAR, Nov 5: Don Bosco College (DBC), Jullang, emerged the winner of the zonal level debate competition (western) for the Chief Minister's Running Trophy, held at Tadar Taniang Hall of the Don Bosco Youth Centre here on Monday.
The competition is organized annually by the Arunachal Press Club, the Arunachal Pradesh Union of Working Journalists and the Arunachal Electronic Media Association, in collaboration with the department of information & public relations.
Debating on the topic, 'Trial by media is fair in democracy', Don Bosco's Mito Bage spoke for the motion and Chalam Pumao spoke against it.
There was a tie for the runner-up trophy between Arunachal Law Academy (ALA), Lekhi, and Dera Natung Government College (DNGC), Itanagar.
Nabam Roma (ALA) and Drema Babin (DNGC) spoke for the motion, while Khyoda Yaluk (ALA) and Mite Perme (DNGC) argued against the motion.
DBC will be participating in the finals of the annual debate competition for the Chief Minister's Running Trophy, along with last year's winner St Claret College, Ziro, and Arunachal University of Studies (AUS), Namsai, on the occasion of National Press Day celebration here on 16 November.
Earlier, summing up the debate, moderator and Associate Editor of The Arunachal Times, Tongam Rina, said: "Repeated reporting and following up on a particular incident should not be mistaken for trial by media, but should be seen as a reminder to the authorities to speed up the investigation or initiate action."
While the house agreed that trial by media is not fair in a democracy, chief guest of the event, RGU Prof Nani Bath, said whatever the media reports is a reflection of the society.
"The media and the judiciary should complement and supplement each other to ensure that peace and justice prevail in the society," he said.
Attending as special guest, Arunachal Pradesh State Legal Services Authority (APSLSA) Member Secretary Budi Habung highlighted the influence of the media and how it can affect not only the common man, but also the judiciary, if left unchecked.
However, he acknowledged that the media does encourage people to come out as witnesses or provide evidence.
"Trials should be left to the judges, but the media can bring out people in the open to help the courts," he said.
Students of Binni Yanga Government Women's College, Lekhi, Government College Doimukh, and the North Eastern Regional Institute of Science and Technology, Nirjuli, also gave their best arguments and insights into the topic of the debate.
Rajiv Gandhi Government Polytechnic lecturer Arun Joram, Itanagar EAC Tame Yajum, and Itanagar DIPRO Keter Bagra judged the competition.
The winners were awarded with cash incentives, certificates and trophies. All the participants received certificates.