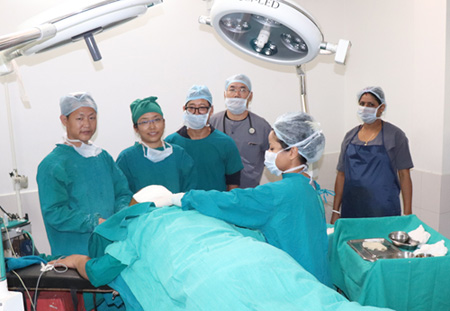 ITANAGAR, Nov 25: Heema Hospital here has become the first in the state to conduct a hair transplant surgery.
On Sunday, a team of doctors at the hospital conducted a successful hair transplant surgery on a local person. The surgery was done by Drs Pura Duri, Manju Darang and Genya Zirdo, and it took around four hours to complete.
The follicular unit extension (FUE) transplantation is a scar-free technique of hair transplantation which leaves no scar on the donor site. The specialists said that around 2000 hair follicles were extended and transplanted on the person's male-pattern baldness. They said the man would witness the growth of hair within a couple of months.
Hema Hospital chairman Dr Byabang Rana told this daily that it was a first-of-its-kind surgery in the state "and everyone can take benefit of the availability of such super-speciality doctors at the hospital."
"Earlier, people had to go outside the state for consultancy and operation, which used to cost a lot. With specialist doctors available here at their doorsteps, they can now avail the facility for a nominal fee," he said.