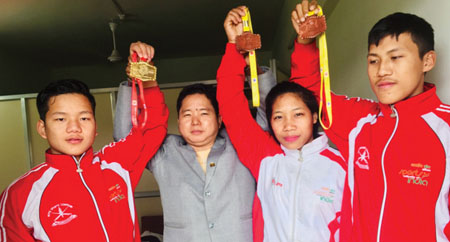 ITANAGAR, Dec 18: Markio Taro of Arunachal Pradesh created a national weightlifting record in his maiden appearance in the Youth and Junior National Weightlifting Championship, currently underway at Nagpur, Maharashtra.
A student of the Army Sports Institute, Pune, Maharashtra, Markio achieved the feat by lifting a total 251 kgs in the 67 kg bodyweight category on Tuesday, informed the Arunachal Weightlifting Association.
The 14-year-old, who lifted 105 kgs in snatch and 146 kgs in clean & jerk, also happens to be the nephew of former national record holder Yukar Sibi.
By virtue of winning the gold, Tario made an easy berth in the national coaching camp to be held shortly at Patiala, Punjab.
Competing in the same weight category, Ruba Tadu won the bronze with a total lift of 242 kgs (snatch – 107 kgs + clean & jerk – 135 kgs).
In the boys' 49 kg category, Tami Tame clinched the silver by lifting 77 kgs in snatch and 95 kgs in clean & jerk for a total of 172 kgs.
Anai Wangsu won a bronze in the girls' 55 kg category. She lifted 65 kgs in snatch and 80 kgs in clean & jerk (total 145 kgs).
With the addition of four medals on Tuesday, Arunachal's medal tally on day three of the championship rose to six (one gold, two silver and three bronze).