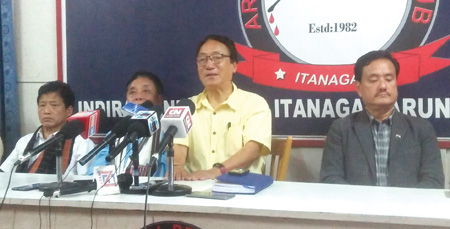 Staff Reporter
ITANAGAR, Mar 15: The People's Party of Arunachal (PPA) Chairman Kamen Ringu today declared that party will not go for alliance and will fight election in all the 60 assembly constituencies. Negating the recent announcement of pre-poll alliance between PPA and Congress by APCC President Takam Sanjoy, the PPA chairman stated that regional outfit will keep distance from both BJP and Congress.
Sanjoy on Tuesday last had announced that INC and PPA would have a pre-poll alliance in the state. "These two national parties keep on poaching our MLAs. We are afraid of forging any alliance with them," he said. The PPA Chairman also stated that Congress party is undermining them by offering few seats for assembly election. "PPA will contest election in all seats by following our own agenda and policies. We appeal educated and uncorrupted youth to join our party and fight election for better Arunachal," added Kamen Ringu.
Ringu also expressed sadness over recent violence in capital complex. "This was first time state capital witnessed such large scale violence. It was sad to see capital burning. This should not be repeated in future and all the political parties should condemn such violence," he said.
Further the PPA chairman informed that party president Kahfa Bengia and general secretary Kaling Jerang has been suspended for one week.