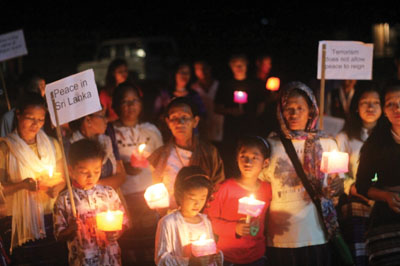 MIAO, Apr 29: Expressing solidarity with the victims of the terror attacks in Sri Lanka on Easter Sunday, the Catholic community of Arunachal conducted special prayer services across the state, and a candlelight rally was held here in Changlang district on Sunday.
The Indian Catholic church has dedicated 28 April, the second Sunday following Easter this year, as a day of prayers and solidarity with the churches and the people of Sri Lanka. The Catholics of Arunachal conducted special prayer services during Sunday mass in the morning, and Eucharistic adoration and candlelight rallies were held in the evening.
Miao bishop George Pallipparambil expressed grief over the Easter Sunday blasts in Sri Lanka.
"The sad news of the serial blasts in Sri Lanka on Easter morning is too painful and condemnable. Sri Lanka as a nation has suffered enough violence in the past. We offer our condolences to the people of Sri Lanka. We assure our prayerful support to the church in Sri Lanka," read a statement from the bishop.
Youths of Miao held a rally at the market in Namphai.
"The news coming from Sri Lanka is very painful. What should have been a joyful day turned into a day of mourning and pain for our brothers and sisters in Sri Lanka," said Nangtim Mossang, a youth leader from Miao.
"We have come together today to tell our suffering brothers and sisters in Sri Lanka that they are not alone in this time of great pain. Their agony is ours and we share their grief," said Tumen Wangrai, a catechist from Changlang district.
Around 200 people participated in the rally, which was preceded by the Eucharistic adoration, and saw the participation of people of all faiths. The small community of Muslims living in the area, and a large number of Hindus, too, were present.
Similar rallies were held in Tezu in Lohit district and Pongchao in Longding district.
A string of suicide bomb attacks hit three churches during Easter Sunday morning service in Sri Lanka. Three luxury hotels packed with tourists were also attacked. On Wednesday, three days after the attacks, the death toll climbed to 359, with more than 500 injured.