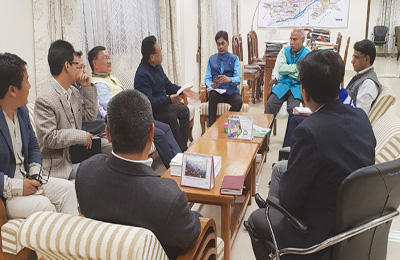 ITANAGAR, May 8: The Nyishi Elite Society (NES) called upon Chief Secretary Satya Gopal at the Civil Secretariat, here on Wednesday to convey their concern over the problems pertaining to the election process in the three Nyishi-inhibited constituencies of Tali (Kra Daadi), Koloriang (Kurung Kumey) and Palin (Kra Daadi).
Acknowledging the NES' concern, the chief secretary reiterated and stressed that the state machineries (Police and administration) "are committed to provide a peaceful and impartial election in the state, including these three constituencies."
IGP Sunil Garg and IGP Law & Order Sagar Preet informed the NES about various security measures taken to prevent any law and order problems in these constituencies.
The IGPs further briefed the delegates that one deputy inspector general of police and three superintendents of police are currently stationed in the affected constituencies.
They suggested strengthening checks at the entry gates as a preventive measure and combing operations to neutralize any kind of threat to peaceful elections.
It was also informed to the delegates that the concerned deputy commissioners and superintendents of police are conducting required meetings with the candidates whenever required.
The chief secretary further requested NES president Bengia Tulom to share any information which may be of any help to the police and administration.
The NES suggested for the chief secretary to meet all the candidates of the three constituencies with the purpose of conducting peaceful election.
In this regard, the chief secretary informed that since it is the domain of the chief election officer (CEO) of the state of Arunachal Pradesh, he would have to consult with the CEO.
Commissioner Home GS Meena, Secretary IPR Sonam Chombay, SP (Special Branch) Tojo Karga, Capital Complex Deputy Commissioner Himanshu Gupta, and Capital SP Tumme Amo were present in the meeting.
ANYA appeals for peace in Koloriang
The All Nyishi Youth Association (ANYA) has also appealed to workers of the Bharatiya Janata Party (BJP) and the National People's Party (NPP) of Koloriang assembly constituency under Kurung Kumey district to maintain peace in the area for the greater interest of public.
Saying that the public is "under fear psychosis of election related violence," the ANYA appealed to the BJP and NPP MLA candidates "to control their workers, supporters and well wishers to avoid poll related violence."
It also requested the district election officer to "handle all poll related issues of Koloriang tactfully to restrain the spread of poll related violence further."
Citing the demise of one Bengia Tamang due to reported poll-related violence, ANYA president Byabang Joram said, "We appeal to the public and youth of Koloriang to extend full support to the district administration to maintain law and problem, and to bring back peace and tranquillity in Koloriang."