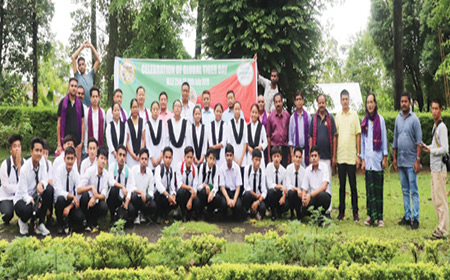 [ Pisi Zauing ]
MIAO, Jul 29: The five-day celebration of the Global Tiger Day (25-29 July) culminated at the CF&FD office of the Namdapha National Park here in Changlang district on Monday with deliberations on tiger conservation.
Earlier, 24 students from the government higher secondary school here participated in an extempore speech competition which had been held as part of the celebration. An essay writing competition for students was also conducted on 26 July.
Addressing students, NGO members, teachers and park officials, Conservator of Forests T Riba said the Global Tiger Day, often called the International Tiger Day, "is an annual celebration to raise awareness for tiger conservation, held annually on 29 July. The goal of the day is to promote a global system for protecting the natural habitats of tigers, and to raise public awareness and support for tiger conservation issues."
Riba shared the recent report of the All India Tiger Census, which states that the tiger population in India till 2014 was 2226, which increased to 2967 in 2019, including 29 in Arunachal.
"Around 100 cameras were put into action in the Namdapha National Park but, unfortunately, no tiger could be trapped," he said. However, he said pugmarks, scats and stools found in the park established the presence of tigers there.
Speakers, including tour operator Phupla Singpho, citizen scientist Minom Pertin, vice principal Devdutt, and students spoke about the issues that require immediate attention for tiger conservation, and suggested raising awareness about tiger conservation by participating in campaigns in local areas.
Taking to the internet and social media is another way to reach out to people and communicate the urgency to support tiger conservation, they added.
They said one of the most effective ways to actively aid tiger conservation is to volunteer with various NGOs dedicated to wildlife protection.
The winners of the essay writing and extempore speech competitions were felicitated with certificates and gifts.