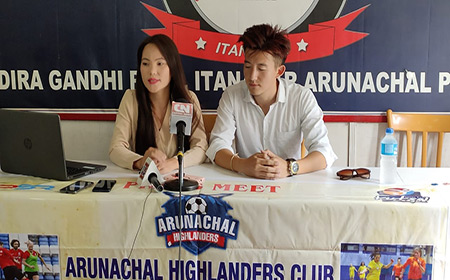 Staff Reporter
ITANAGAR, Aug 21: The state will make its maiden appearance in the Northeast Futsal League (NEFL), the first-ever mixed-gender futsal league, scheduled to begin from 25 August at the NC Bordoloi Indoor Stadium in Guwahati, Assam.
Futsal is football played with five players each on both sides, including the goalkeepers, on a smaller pitch. It is mostly played in indoor stadiums with a smaller ball.
A seven-member team from the state, under the aegis of the Arunachal Highlanders is being coached by Mario Navarro Penlver from Spain.
The team includes three female and four male players: Byabang Agio, Giani Ramching Mara, Hage Takang (Goalkeeper), Karlo Bui, Romik Tapa, Taba Sama, and Langda Mina.
The team manager is Tumken Sora and the team proprietor is Byabang Joram.
Speaking to reporters at the Arunachal Press Club here, the team's managing director, Langda Mina, who is also the founder of the Arunachal Highlanders and a committee member of the NEFL, informed that the seven-day tournament which will go on till 31 August and will feature six teams.
The teams are Meghalaya Thunders, Assam Titans, Mizo Falcons, Apunba Manipur, Nagaland Super 5 and Arunachal Highlanders.
The champion team will receive Rs 5 lakh and the cash award for the runners-up team is Rs 2.5 lakh, she added.
Player profiles will also be introduced for the first time, allowing them to be transferred from one team to another.
On the event, Mina said that one of the unique elements of the NEFL will be its mixed-gender teams, where each team will have female players, and one of them will be on the pitch at all times, which she said is a way to boost female participation in sports.
The NEFL is already affiliated with the Futsal Association of India.
Regarding the selection of players for the team, she informed that they had a three-day trial run after which the current team has been selected.
The NEFL is a brainchild of Proclivity Sports and Recreation Pvt Ltd or PSR, owned by Ranajit Mahanta and Biswajit Mahanta. It is aimed to create and develop a sustainable foundation for the sport of Futsal as a sporting career alternative for the athletes of Northeast India by providing the best education, facilities and showcases to participate in the game. NEFL will be the first major sports league, involving all eight Northeast states of India.