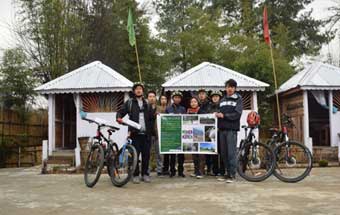 [Yachang Tacho]
ZIRO/ITANAGAR, Jan 23: A mountain terrain biking (MTB) challenge from Ziro to Itanagar was organised by Poper Rides in collaboration with Nature Dwling and Golden Resort Ziro with the objective of promoting cycling on Wednesday last.
The event was earlier flagged off by Apatani Youth Association general secretary Racho Kacho.
Chukhu Reelum from Yazali was the lone female rider in the event. The riders managed to complete the ride from Ziro to Itanagar in 12 hours and 45 minutes.