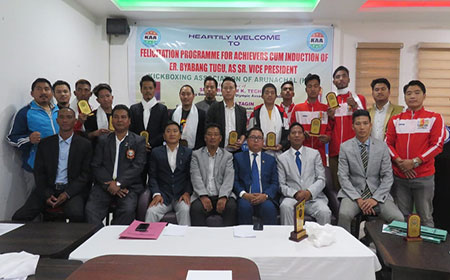 State has great potential in combat sports: Abraham
Staff Reporter
ITANAGAR, Feb 21: The Kickboxing Association of Arunachal (KAA) on Friday felicitated the medal winners of the recently held Wako India Open Internati-onal Kickboxing Tourna-ment in New Delhi and the All India Inter-University Kick Boxing Championship in Uttar Pradesh.
The coach, manager and three officials have qualified as international referee/judges in the Tatami sports events. The examination for referee/judge was conducted alongside the tournament in New Delhi by referee committee chairman of Tatami Sports Wako (IF), Brian Beck, of Great Britain.
All of them were presented mementoes and shawls by Arunachal Olympic Association secretary-general Abraham K Techi, KAA president Bulang Marik, KAA vice-president Byabang Tugu, KAA chairman Dr Marli Ete, KAA general secretary Charu Govin, and Arunachal Teakwondo Association general secretary Tara Tagin.
The medal winners in the event held in New Delhi were Bialok Ragit (gold), Monda Sangno (gold), Robin Deori (sil), Hura Maming (sil), Monjit Yein (sil), Jumli Kato (sil), Charu Tach (sil), Tara Dodum (br), Dolang John (br) and Dibyajeet Jha (br), and the medal winners in the all India inter-university championship were Kende Mugli (sil), Tamuk Riang (sil) and Taro Riang (br).
Congratulating all the medal winners, Abraham said the KAA "deserves appreciation as it has been able to produce athletes of national and international repute within a very short period of time."
The KAA became functional only in 2019.
He said the state has great potential in combat sports, which include boxing, judo, Taekwondo, karate and Wushu, besides weightlifting.
"Keeping this in mind, the ministry of youth affairs and sports has set up a centre of excellence for these disciplines, which is temporarily functioning from Sangay Lhaden Sports Academy," Abraham said.
Stating that Arunachal is one of the highly funded states in the sports sector, the AOA secretary-general said the department concerned should identify sports in which the athletes have the best chances to win medals, and concentrate on those disciplines accordingly.
He emphasized the need to conduct regular sports seminars, coaching and training in order to achieve better results.
Abraham advised the sportspersons to "not play sports only to land a government job."
KAA president Marik briefed on the achievements of the kickboxers of the state since its inception in 2019.