[ Karyir Riba ]
Roing, Mar 25: Villages falling under the Dambuk constituency of Lower Dibang Valley have turned towards traditional rituals that involve sacrificing dogs and hanging them in the entrances to their villages in an attempt to ward off Covid-19.
Such rituals have been reported from the Papum Pare and East Siang districts too.
The Lower Dibang Valley district administration has issued an order today, prohibiting such practices in the district. The order said that such killing of animals and hanging them in open road sides may create nuisance and health hazards to the public.
Violators were warned of being booked under Prevention of Cruelty to Animals Act, 1960, and immediate removal of 'such nuisances' was also ordered.
Former ZPM Bizari Robin Perme informed that the ritual is known as 'Motum Moyeng Eki Patum'. He said that it has existed in the tribe since time immemorial and has been performed every time there has been any events of epidemics in both humans as well as domesticated animals, mainly to contain the spread of the disease.
Perme explained that the ritual calls for a total lockdown of the village after it has been performed and the sacrificed dog is hanged at the entrance.
"No body can come into the village or go out for two days", he said and added that after two days the carcass of the dog is then removed and normal day to day life goes on.
Perme said that CO Dambuk had come to take stock of the situation.
"We requested him to give us a day to remove the carcass", he said.
The CO confirmed this information and said that since it was already late in the evening, the villagers had given word that they would stop the ritual tomorrow in daylight.
Entry prohibited in Ganga village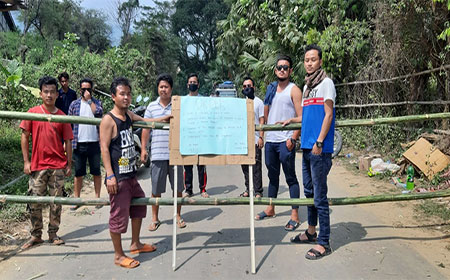 Meanwhile, the Ganga village authority here in Itanagar has put the village in a lockdown from 25 to 31 March as a precautionary measure against the Covid-19 pandemic.
As per the order issued by the village authority, the residents are advised to stay at their respective homes and take necessary precaution measures, with strict instructions to halt outsiders from entering the village premises.
Grocery shops within the village have been instructed to open for a limited time every day, from 11 AM to 2 PM.
Only emergency vehicles will be allowed and no individual is allowed to roam freely without a valid reason. Even in case of an emergency, only one person is allowed on the streets as per the village order.
Public gathering, including religious or gambling activities are banned during the time.