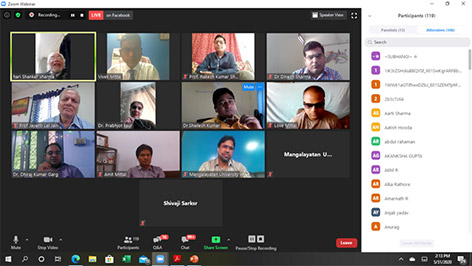 ITANAGAR, May 31: The Himalayan University (HU) here and the Mangalayatan University organized a webinar on 'Research and publication ethics' on Sunday.
In his inaugural address, HU Vice Chancellor Dr HS Sharma stressed upon integrity and moral values. He said that "morality comes first, and it is imbibed in our culture we have to carry on it. The author has be honest in performing, creating, and reporting any activity which leads to the creation of intellectual property."
Chitkara University Dean Dr Amit Mittal explained about predatory publications, predatory conferences, UGC CARE / Scopus / WoS. He further elaborated the guidelines of committee on publication ethics.
Mangalayatan University Dean Dr Jayanti Lal said that attribution and citation is important, adding that "copyright may expire but moral right to be attributed never expires."
Blue Crest College Sierra Leone Rector Dr Shailash Kumar spoke on the ethical issues in writing in the context of Africa.
Post Doc Fellow ICSSR and Punjab University Dr Prabhajor Kaur presented two case studies and explained publication ethics. She explained ethical issues regarding various stakeholders as researcher, publisher and reviewer.
Manglayatan University Joint Director Dr Dhiraj described technical issues related to security of data.
A question and answer round was conducted where participants cleared their queries.