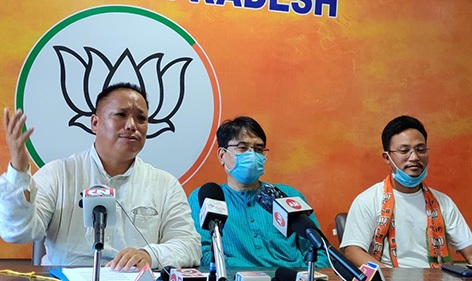 Staff Reporter
ITANAGAR, Jun 18: Members of the state Bharatiya Janata Yuva Morcha (BJYM) burned an effigy of Chinese president Xi Jinping here on Thursday to register their protest over the Chinese transgression in Galwan Valley in Ladakh which led to a violent clash, resulting in the death of 20 Indian soldiers on Monday night.
Addressing the media, state BJYM president Ram Tajo said the BJYM would launch an anti-China campaign and boycott Chinese products.
He said the party's youths are "ready to sacrifice their lives" in defending the country.
"I request Prime Minister Narendra Modi to go ahead with any decision to safeguard Indian land. We will stand tall in your fight to do so at any cost," Tajo said, adding that the Chinese should never think that Arunachal is a part of China.
He said the party would request the state government to take up boycotting of Chinese products "as a movement."
Meanwhile, state BJP spokesman Dominic Tadar said "Chinese troops have often tried to expand their territory in Arunachal Pradesh, as they have tried in recent days in Galwan Valley in Ladakh."
Tadar said China's idea of expanding its territory in India and claiming Arunachal as an integral part of China would never be accepted by the people of the state.
"The Chinese government should stop claiming our state as their integral part and avoid condemning the visits of various union leaders, the president, and the prime minister to the state," Tadar said.
He said the Indian Army is "well-equipped and ready to face any such situation along the international boundary with Arunachal Pradesh.
"Even the villagers sharing the international boundary with China are well-informed about the incident in Ladakh, and have been put on alert by Chief Minister Pema Khandu," he said.
When asked about the impact that boycotting Chinese products would have on the country's economy and employment, Tadar said, "No doubt there will be an impact on the country's economy and a few unemployment; but territorial integrity and sovereignty are the priority right now."
He also made it clear that no Chinese products would be allowed in the party's office here.