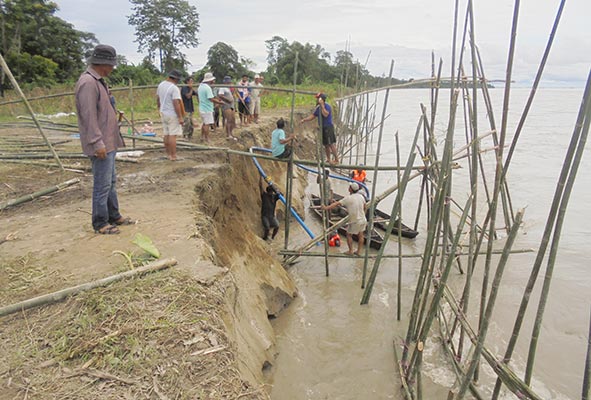 [ Prafulla Kaman ]
MEBO, Jul 24: The villagers living along the bank of the Siang river in Mebo subdivision in East Siang district are making efforts to control soil erosion by the river, using locally available materials, without waiting for the government's help.
They are using bamboo and wooden structures to control erosion at Kongkul and Namsing villages, on the left bank of the river.
The river eroded about a 550-metre stretch of the Mebo-Dhola road between Kongkul and Namsing villages on Wednesday. It also eroded several acres of horticulture gardens at Serum, Kongkul and Namsing villages.
The villagers of Lower Mebo are also rendering physical assistance on a routine basis.
Local MLA Lombo Tayeng is joining the villagers' efforts by contributing boulders and GI nets to erect boulder spurs, said the villagers of Namsing.
Tayeng, accompanied by administrative officials and departmental engineers, visited the affected areas.
On being asked to construct a subway to restore the road connectivity, PWD officials informed the MLA that development of a 2-km-long subway is in progress and is expected to be completed by Sunday.
Tayeng also directed the power department to initiate measures to restore power supply as soon as possible.