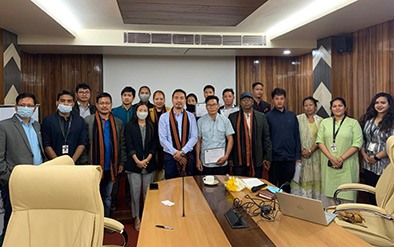 ITANAGAR, 15 Mar: Indus Towers in partnership with ShishuSarothi organized an award ceremony and induction programme here in association with the Arunachal Pradesh Parents Association for Disabled, as part of the Indus Towers Scholarship Programme, 2020-21, which is one of the key CSR initiatives of Indus Towers Limited (formerly Bharti Infratel Ltd).
Of the total 120 students selected from across the Northeast, seven students with disabilities from Arunachal were felicitated during an event on 10 March at a city hotel here. The induction session was conducted by NE region project coordinator Seema Jangid for scholars, accompanied by their parents, to orient them to the methodology of claiming and the mode of scholarship disbursement.
Ward No 1 Corporator Lokam Anand awarded the certificates.
The Indus Towers Scholarship Programme, implemented by ShishuSarothi, was launched in 2016 with the objective of encouraging and supporting students with disabilities, and has since supported 196 students from across the Northeast pursuing higher education during the first phase of the programme.
In the second phase, which commenced in April, the programme will support 600 students over a period of five years (120 students each year). The selected students will be provided support towards their educational fees till the completion of their course, and a few are also being granted additional assistance such as study materials, assistive devices, hostel, and conveyance.
The Arunachal Pradesh Parents Association for the Disabled is the state partner organization and a point of local contact for Indus Towers Scholarship Programme for Arunachal.
For more details on scholarship, visit: www.ssscholarship.org. Helpline: +91 70862 68549.