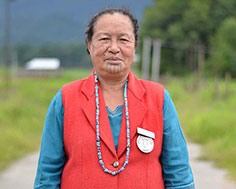 ZIRO, 30 Nov: The Apatani Gaon Bura Buri Association here in Lower Subansiri district has mourned the demise of Michi village head gaon buri Michi Odii (Yapyang), who passed away on 28 November.
Late Odii (58) was in the first batch of GBs from the Apatani community appointed in August 2007, and was elevated as head gaon buri in July 2016.
She had earlier also served the society as a GPM and an ASM, and was a member of various women's organizations.
The Michi Welfare Society Itanagar also deeply mourned Odii's untimely demise.
"She was known for her straightforward nature, versatility and social work. Her memories will always remain with us. The Michi Welfare Society Itanagar stands with the family members in this hour of grief and prays to almighty god to grant her departed soul eternal peace," it said in a condolence message.