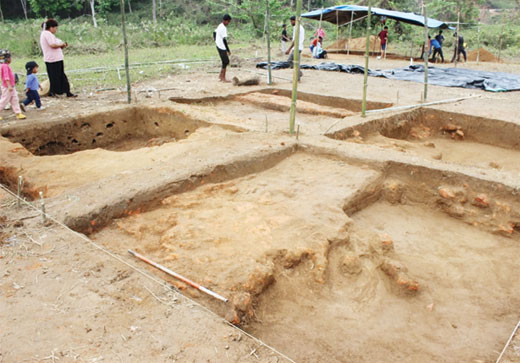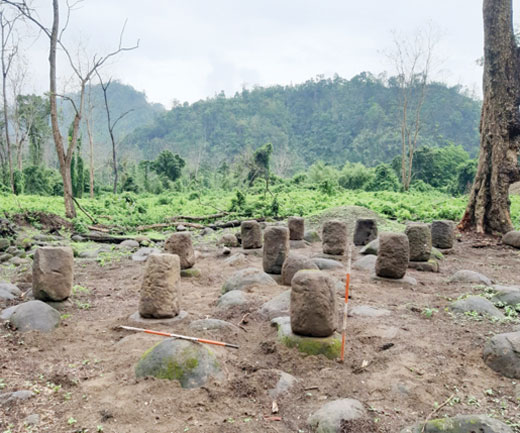 TARASSO, 12 May: The archaeology section of the state's research directorate has discovered the remains of an ancient settlement in the jungles of Ramghat in Tarasso circle of Papum Pare district.
The discovery was made during 'archaeological exploration-cum-excavation works' in the jungles of Ramghat. The remains of the settlement cover an area of more than 20 acres.
The archaeological excavation unearthed a fortification (rampart) measuring 226 metres long, made of stone blocks, burnt bricks and stone boulders, along with a gate. The gate is made of rectangular and hemispherical stone blocks, burnt bricks and stone slabs, "and has a 2.83-metre passage (interior)," according to the directorate.
Some of the stone blocks have symbols and designs on them, like combined bow and arrow, bow, arrow, and trident.
A broken Shivalinga, a sealing ball, and potsherds were also discovered from the site, and field investigation revealed that the ancient human habitation was made of stone piles (pillars).
Archaeological exploration in and around Vyas Kund and Ramghat was also conducted, and the remains of a stone staircase were discovered.
The exploration and the excavation were carried out under the supervision of archaeologist Pura Koji, and assistant Tadu Ringku of the research department.
"Further intensive fieldwork investigation is needed at the jungles of the Ramghat and Vyas Kund areas to unearth more ancient remains," Koji said.
He informed that the archaeological excavation started from 24 March, with support from the local administration and the ZPMs of Balijan and Tarasso, besides Tem Pika and Tem Yaba. Koji thanked landowners Tem Tatik and Tana Tagung for their cooperation during the archaeological activities.
Koji further informed that the research team also unearthed the remains of brick structures in Upper Balijan area.
"The footpath made of bricks connects the structures and runs east to west direction and then towards north direction. Prehistoric tool (flake-Palaeolithic scarper) and potsherds were discovered from the site," the directorate said. (DIPRO)