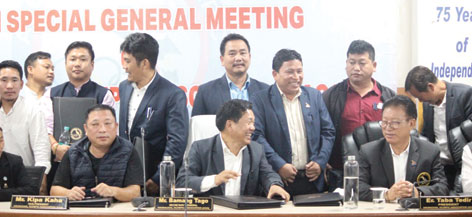 ITANAGAR, 15 May: The Arunachal Olympic Association (AOA) adopted various resolutions concerning the development of sports in the state during a meeting held at the DK Convention Hall here on Saturday.
During the meeting, which was attended by representatives of 53 state sports associations and 25 District Olympic Associations affiliated to the AOA, it was resolved that the AOA would prepare a comprehensive roadmap for overall development of sports in the state.
The association also resolved to take strong action against members of the affiliated units "involved in fraud/fake certificate in sports participation in future in the context of basic universal principles of good governance of the Olympic and sports movement."
It said it would also constitute a 'task force committee' for conducting sports events "where the concerned state sport associations doesn't conduct tournaments, to ensure that the interest of promising sportspersons do not suffer and they get fair opportunities of participation in regional, national and international events."
The AOA further resolved to "handle the selection of athletes for submission of entries of Arunachal teams and sportspersons to the national and international federations concerned," informed AOA secretary-general Bamang Tago.
AOA president Taba Tedir, who chaired the meeting, informed that the state government is taking initiatives to improve "the sports intra-infrastructure across the state, including establishment of multipurpose sports facilities in the Itanagar Capital Region."
Tedir disclosed that "the AOA has executed a memorandum of understanding (MoU) with retired Guwahati (Assam) SAI regional director Dr Subash Basumatary as the adviser to AOA, and will execute further MoU with Rajiv Gandhi University as the consultant of AOA within this month."
Earlier, RGU sports science coordinator Dr Anil Mili made a presentation on 'Sports science and high performance'.