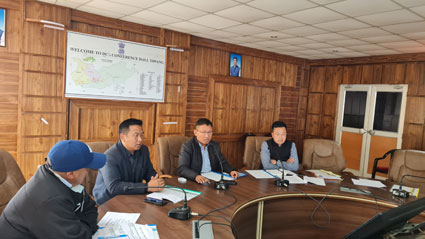 TAWANG, 26 May: Tawang DC Kesang Ngurup Damo while chairing a meeting of the District Level Monitoring Committee (DLMC) here on Friday asked the government departments to "expedite work towards e-office."
"Working patterns have changed (and) the works pertaining to DC office Tawang on e-office platform is now almost complete," he said, and encouraged other departments and offices at the subdivision and circle levels to "expedite work towards e-office."
He asked the departments to "increase the pace of work in this season but without compromising with its quality," and to submit monthly progress reports and utilisation certificates of works under execution and those that have been completed.
The departments' officials made presentations on the status of the developmental projects taken up by their departments.
Tawang EAC Choiki Dondup informed that the state government recently instructed that DLMC meetings, which used to be held quarterly earlier, be held every month.
He further informed that, henceforth such review meetings are to be conducted every month at the circle and the subdivision levels by constituting subdivision level monitoring committees and circle level monitoring committees.
Among others, Lungla ADC Tashi Dhondup also attended the meeting. (DIPRO)