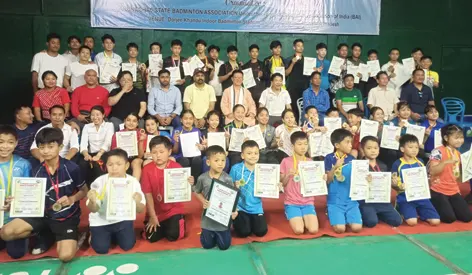 Robin, Tayam win boys' and girls' U-17 singles titles
ITANAGAR, 13 Jun: Laa Robin and Napi Tayam won the boys' and the girls' U-17 singles titles in the 5th Sub-Junior State Ranking Badminton Tournament, which concluded at the Dorjee Khandu indoor badminton stadium here on Sunday.
Robin beat Taku Manku 21-19, 21-19, while Tayam defeated Taku Neha 21-15, 21-14 in the finals to win the gold medals.
The duo of Lobsang Choidrup and Taku Manku beat Laa Robin and Nabam Dochi 21-18, 21-9 to win the boys' U-17 doubles title.
Robin, partnering with Tayam, beat the pair of (Lobsang) Choidrup and Montily Pul 21-17, 21-15 in the final and won the mixed doubles gold.
Beryl M Saring beat Jesicca N Saring 21-14, 21-1 in the final of the girls' U-15 singles title, while Taku Manku won the boys' U-15 singles title, beating Nabam Isaac 21-18, 21-17.
In the U-15 boys' doubles final, the duo of Loki Golo and Tseten Gyurmay defeated Nantiwa Chowpu and Soijan Manlong 21-18, 23-21 to win the gold medal.
Licha Gumsh and Jesicca N Saring won the boys' and the girls' U-13 singles titles.
While Gumsh beat Gulum Rava 21-11, 21-8, Saring beat Adam Doyom 21-18, 21-11.
Licha Gumsh, partnering with (Jesicca N) Saring, beat Dadar Tamin and Adam Doyom 21-12, 21-9 and won the U-13 mixed doubles gold.
Nabam Oken, pairing with Teshi Bidum, beat Debia Tagu and Licha Polu 21-14, 21-15 to win the U-13 boys' doubles title.
In the boys' U-11 singles, Debia Tagu won the gold medal, defeating Licha Polu 18-21, 21-13, 21-19.
Geto Sora defeated Rakjom Jini 21-5, 21-4 to win the boys' U-9 singles gold medal.?All the runner-up title holders were awarded silver medals.
Attending the closing ceremony, Education Minister Taba Tedir, who is also the Arunachal Olympic Association president, lauded the Arunachal State Badminton Association (ASBA) for taking the initiative to groom young badminton players and providing them with a platform to show their talents.
ASBA secretary-general Bamang Tago informed that badminton courts have been established in every district and block, but young players are not getting enough opportunity to use the courts to practice as most of the time the veterans occupy the courts.
He disclosed that most of the winners are players who are receiving training under foreign coaches.
Tago expressed hope that the state would produce a pool of badminton players, who can compete at national and international levels, within two years.