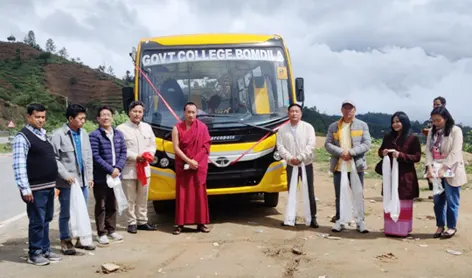 BOMDILA, 15 Jun: Tsering Dolma, an alumna of Bomdila Government College and wife of CM Pema Khandu donated a new bus to Government College, Bomdila on Wednesday.
The bus was handed over to the principal in-charge of the college Dr. Tashi Phuntso in the presence of representatives of district administration, public leaders, faculty members and staffs of the college.
 The bus has come as a great succor to around 700 students of the institution who had been facing immense difficulty to attend college regularly due to single bus service.
Speaking on the occasion, Dr. Phuntso expressed gratitude to Tsering Dolma for her noble gesture and constant support in the developmental works of the college. (DIPRO)