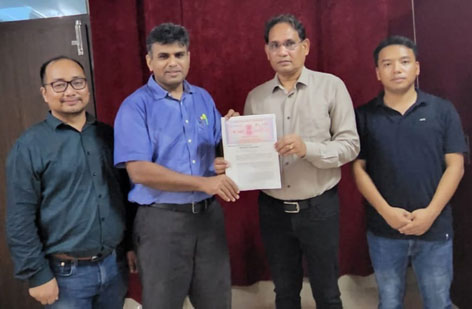 ITANAGAR, 19 Jun: The State Health Agency (SHA), Chief Minister Arogya Arunachal Society, has signed an MoU with the Arunachal State Rural Livelihoods Mission (ArSRLM) with the aim of enrolling Self Help Groups (SHG) under the Chief Minister Arogya Arunachal Yojana (CMAAY) and the Ayushman Bharat Pradhan Mantri Jan Arogya Yojana (AB-PMJAY) and providing health identity cards to women SHG members under the Ayushman Bharat Digital Mission (ABDM).
Outgoing Health Secretary P Parthiban, speaking during the signing of the MoU, emphasised on empowerment of women. "SHG members and their family members will get healthcare coverage of Rs 5 lakhs per annum under the CMAAY or the AB-PMJAY," he said, and stressed on issuing health IDs to every SHG member, "in order to ensure continuum of care."
 RD&PR Secretary Amarnath Talwade termed the signing of the MoU historic. "Altogether 45,040 women SHG members stand to benefit from the health assurance schemes in the empanelled hospitals across the country," he said.
SHA CEO Dr Nabam Peter expressed optimism that "SHG members will become ambassadors for creating awareness about these schemes in the remote areas where digital penetration is low."
ArSRLM State Mission Manager (Financial Inclusion) Hillang Tasap said that this initiative "is the innovative convergence model for deepening and accelerating the health assurance scheme of the state at the doorsteps of the rural clients through the SHG ecosystem."