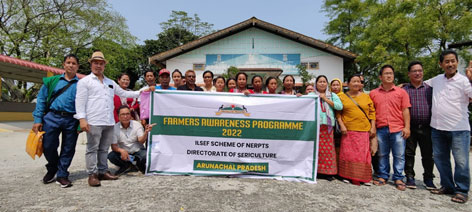 ITANAGAR, 20 Jun: A group of sericulture farmers from various districts of Arunachal Pradesh were taken on a three-day exposure trip to the BTC and Assam to give them the opportunity to learn about the new technologies developed by the Central Silk Board in pre- and post-cocoon sectors.
The tour concluded on Monday with a visit to the silk weaving village and the silk testing centre in Sualkuchi, Assam.
The team was led by Sericulture Director (in-charge) Barnali Sur and Assistant Director Opung Jamoh Dai.
The trip was sponsored by the union textiles ministry under its ILSEF, NERTPS programme.
Earlier, the first batch of sericulture farmers had been taken to the weaving section of the Indian Weavers Alliance Inc and its silk outlet in Guwahati.