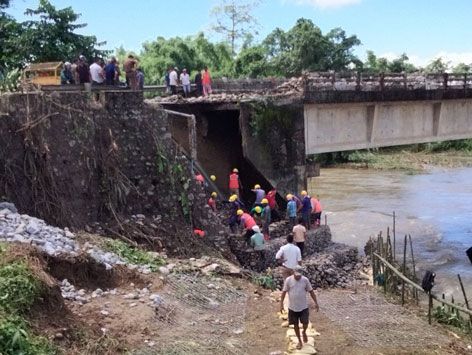 [ Bengia Ajum ]
NAMSAI, 1 Jul: National Highway 15, connecting Namsai with Tezu, continues to remain closed after a portion of the Tengapani bridge here collapsed on Wednesday.
The bridge was partially damaged by the rising waters of the Tengapani river and its tributaries. The Border Roads Organisation (BRO) is engaged in the restoration work.
Speaking to this daily, Namsai DC CR Khampa expressed optimism that the bridge would be open for traffic by Saturday evening.
Khampa, who took charge as the DC on Friday, also visited the bridge site on Friday. "The restoration work is going on on a war footing," he said.
A local official informed that the bridge suffered major damage, due to which it is taking a long time to be restored.
"We understand that people are facing problems, but it will be open for traffic only after the engineers are satisfied with the restoration works," the official said.
For now, the Namsai district administration has restricted the movement of all types of vehicles on the Tengapani bridge. This is causing big trouble for the people of Lohit, Namsai, Anjaw and Lower Dibang Valley districts.
"Especially for the people of Lohit, Namsai and Anjaw districts, the Tezu-Namsai road is our lifeline. As the highway cannot be used for travelling due to the collapse of the Tengapani bridge, we are facing a lot of trouble. Especially the medical patients who have to go to Dibrugarh and Tinsukia in Assam for treatment are facing the maximum brunt," said a resident of Tezu.
The locals also alleged that the restoration work is going on at a slow pace.
With traffic movement on the bridge restricted, the people have been forced to take longer routes to reach their destinations. The closure of the bridge is also reportedly affecting the flow of tourists to the region.