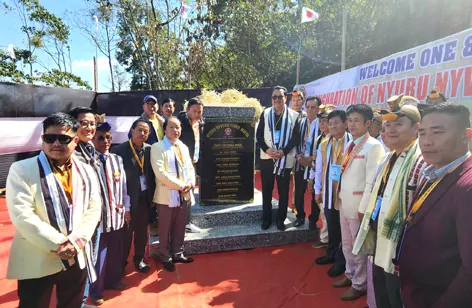 MYWA, 14 Feb: Deputy Chief Minister Chowna Mein inaugurated the newly established nyubu nyvgam yerko – an indigenous tribal traditional and cultural school – in Mwya village in Lower Subansiri district on Tuesday, in the presence of Education Minister Taba Tedir, MLA Nyamar Karbak, and others.
"The school will play a major role in preservation and promotion of Arunachal Pradesh' indigenous tribal cultures and traditions.
 It is aimed at providing quality education to the tribal children in an environment that respects and promotes their culture, language and traditions," said Mein while addressing the event.
He lauded the efforts of the local community in establishing the school, and highlighted the importance of preserving the indigenous cultures and traditions of Arunachal.
"Every child should learn about their cultural heritage from a young age, and every gurukul in the state should be a centre of learning where traditional values and ethos are taught," he said.
Mein further said that "teaching third language in government schools should be monitored," and added that "it needs to be introduced in private schools as well, so that future generations can speak fluently in their pure dialect, without mixing up with any other languages."
The DCM assured to provide Rs 1 crore as grant-in-aid to the school, and gave assurance that such grants-in-aid will be provided to "all the indigenous teaching schools of the state." He also promised to enhance the grants-in-aid to the Donyi Polo Charitable Society.
Tedir, Karbak, NES president Prof Tana Showren, IFCSAP president Katung Wahge and Nyubu Nyvgam Yerko Chairman Likha Tongum also spoke.
Students of the school presented indigenous prayers, songs and dances, besides chanting Nyishi proverbs. The dignitaries also offered prayers at the nyuubu namlo (indigenous prayer hall) here. (DCM's PR Cell)