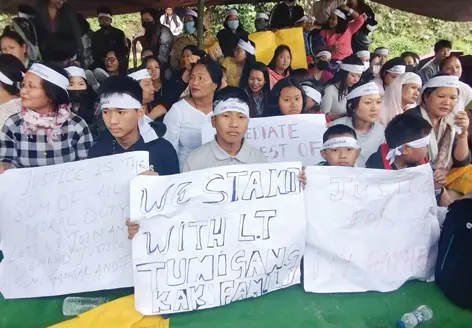 ITANAGAR, 1 Apr: The Galo Welfare Society (GWS) on Saturday staged a dharna at the tennis court here, seeking justice for former APPSC undersecretary Tumi Gangkak, who was found dead under mysterious circumstances near the Ganga Lake area, along the Jote-Poma Road, on 24 February.
His body was found hanging, with his wrists and Achilles tendons of both legs slit.
GWS general secretary Nyadar Loya said that "it is a well-crafted murder," and sought to know "why the agency is taking so long to solve the case."
"Unless the issue comes to a logical conclusion, we will keep on fighting, and the result should be in written form," he said.
Expressing support to the dharna, Pan Arunachal Joint Steering Committee (PAJSC) chairman Techi Puru said that "the government should place all the audio and video recordings of the meeting with the CM in the public domain."
He termed the incident "a high profile nexus, including a few CBOs."
Former chief minister Gegong Apang, who also attended the dharna, in his address sought Chief Minister Pema Khandu's resignation, stating that "the CM is the main person in the issue."
"How come the state government wouldn't know about the developments going on?" he asked, and added that "there was no law and order issue" during his tenure as chief minister.
Members of the Galo Students' Union (GSU), the Upper Subansiri district GSU unit, the PAJSC, and individuals such as Sol Dodum, Toko Sheetal and Taw Paul also attended the sit-in.
The GWS has already announced that all Galo officers would go on casual leave on 10 April to protest the government's "inertia" with regard to bringing the case to a logical conclusion.
It also sought support from the Confederation of Service Associations of Arunachal Pradesh, saying that "all government employees should take casual leave in their districts as a mark of protest."