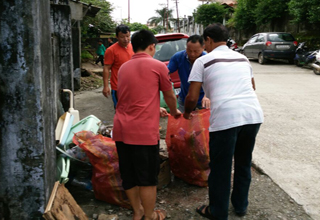 ITANAGAR, Sep 24: Cleanliness drive under 'Swachta Hi Sewa', a nationwide campaign to reignite mass movement for cleanliness, is picking up in the state as the third anniversary of Swachh Bharat Mission approaches fast.
At Tezu, cleanliness drives were carried out in all government departments by the employees of the respective departments.
Lohit Deputy Commissioner Karma Leki, who supervised the cleanliness drives, said he is determined to make the district a forerunner in terms of cleanliness and hygiene, and asked all departmental heads to submit reports with photographs of social services they have organized.
Similar social services were also carried in Itanagar, Naharlagun, Aalo etc by the officials of various departments to clean their office premises.
At Itanagar, the employees of Arunachal Pradesh State Council for Science & Technology, Department of Science & Technology rendered social services to clean its office premises located at ESS Sector and also at the Arunachal Pradesh State Science Centre at IG Park on Sunday.
Director Science and Technology, Chow Dhanya Mungyak administered the Swachhta Hi Sewa pledge to the officials and staff.
India Tourism, along with students and teachers of Kendriya Vidyalaya conducted a cleanliness drive at Naharlagun and cleaned the surroundings and marched to create awareness.
Cleanliness drives were also conducted by all HoDs in Aalo in their respective offices involving the employees.