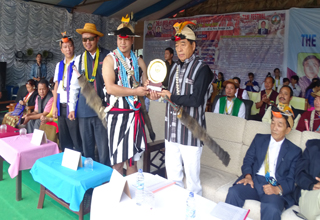 Apang calls for proper research on the Tani languages
ITANAGAR, Oct 25: The first ever Abo-Tani foundation day celebration cum Tani festival, organized by the Abo Tani Clan Organization (ATCO) was inaugurated by former Chief Minister Gegong Apang here at Indira Gandhi Park, Itanagar on Wednesday.
Addressing the gathering, the former Chief Minister said there should be proper research on the Tani languages so that it could be preserved and passed on through generations.
He also believed that the celebration of the Tani festival would help to foster unity.
Taking the opportunity to cite about the proposed mega hydro power projects in the state, Apang said that such projects would not only affect the people downstream but also affect those living in upstream and suggested brining in alternatives to it.
He also appealed to the Government of Arunachal Pradesh to immediately create Department of Abo-Tani Tradition & Culture Affairs (DATCA), which the ATCO has been demanding.
PPA President Kahfa Bengia in his address also called for taking care of the indigenous tradition, language, and art and culture, while ATCO President Yamra Taya urged everyone to remain united for the greater cause of the state.
ATCO Chief Advisor Taba Taku submitted a two-point memorandum, which included creation of DATCA and declaration of Abo-Tani Foundation Day as state holiday on 25th October every year.
Community based organisations from 14 districts of the state joined the celebration.
Later, the dignitaries also inaugurated exhibition and food stalls and sporting events.