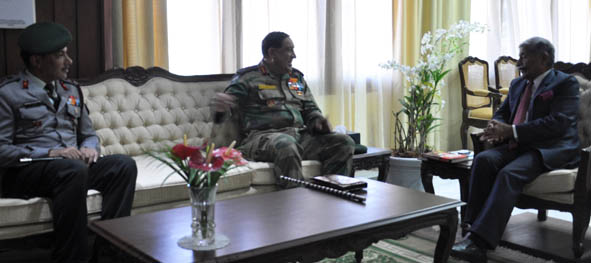 ITANAGAR, Nov 6: Governor, Dr B D Mishra emphasised on the requirement for the promotion of the sense of security amongst the people in the border and disturbed areas through model conduct and appropriate employment of the para-military forces, when Director General of Assam Rifles, Lieutenant General Shokin Chauhan, AVSM, YSM, SM, VSM called on him at the Raj Bhavan on Monday.
The Governor also expected them to contribute positively in counter insurgency measures.
Appreciating the need for relaxation in the height standard for indigenous people to enable them to enrol into the military service, and the allotment of additional vacancies to Arunachal Pradesh for recruitment in Assam Rifles to balance the SC vacancies given to each state as there are no SCs in the state, the Governor assured the DG to take up the issues with the Ministry of Home Affairs.
He suggested that the Assam Rifles conduct medical camps, awareness campaigns, educational assistances, and protect the environment in the area of their responsibility, and asked the DG to motivate the local youth to join the armed forces, which is a noble profession.
He appreciated the suggestion of the DG for revival of road communication to Vijoynagar in Changlang district and assured the DG that he would take it up with the appropriate authority.
Earlier, the DG briefed the Governor on the mission of the Assam Rifles and overall security environment in the eastern part of the state.
The Director General of Assam Rifles also called on Chief Minister Pema Khandu on Monday, where the Chief Minister informed Chauhan on proposal of the state government for three new Sainik schools in the state, which have received in-principle approval from the Defence Ministry recently.
The Chief Minister also discussed on having proper facilities for Assam Rifles personnel stationed in Vijoynagar in Changlang district, which has no proper road connectivity. Further issues regarding misuse of free movement regime (FMR) along the Indo-Myanmar border by insurgents and smugglers were also discussed.
Pema informed that he is likely to visit the three eastern districts of Tirap, Changlang and Longding early next year and during the visit expressed to meet the Assam Rifles personnel on the ground stationed there.
Director General Chauhan said he is keen to make Assam Rifles more North East specific. He said since North Eastern states consist of mainly tribals, the job quota under scheduled caste is filled by people from outside the region. He therefore expressed concern over limited entry of tribal people in the paramilitary force.
The meeting also discussed the progress of highway along the Changlang-Khonsa route that will make communications easy without having to enter Assam.