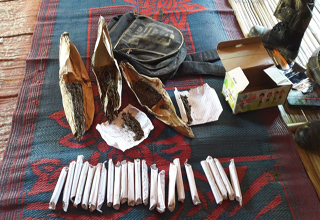 [ Mingkeng Osik ]
PASIGHAT, Nov 12: Pasighat Police have arrested seven persons for possessing and peddling drugs from Pasighat and Oyan.
Four persons were arrested and several types of drugs, Ganja and Kani (Opium) making tools were seized from their possession during a series of raid conducted in Gumin Nagar and Dibu area of Pasighat by police on the night of November 10 that lasted for eight hours from 10 pm.
The arrested are Nayi Riba, Katan Mongku alias Pagram, Ojong Osik and Lenzing Saring, informed officer in-charge of Pasighat Police Station A. Taki.
Brown Sugar, Opium and Ganja in small quantities were seized from their possession along with Kani (Opium) and Ganja making implements, Taki said.
Police also seized three 12 Bore Shotgun live cartridges and gambling items (Dice sets) during the raids.
Police first raided the house of Nayi Riba after getting specific information that a person (Nayi Riba) was smoking Ganja. During interrogation, Riba admitted that he had purchased it from one Katan Mongku, who later disclosed the names of Ojong Osik and Lenzing Saring.
The police team was led by Deputy SP (P) Torum Makcha and SI Woakim Mungrey.
Police registered cases against the arrested persons under various sections of NDPS Act and Arms Act at Pasighat Police Station.
Meanwhile, Pasighat Police arrested two drugs peddlers from Oyan circle during an early morning raid on Sunday.
Acting on tip off, Pasighat Police along with a team of Women Against Social Evil (WASE) and Sille Oyan Circle Officer Ocean Gao raided the houses of Najush Bori of Yeken and Kohima Noroh of Oyan and recovered more than a kg of (650gm and 700gm) Ganja from their possession, informed Deputy SP Makcha.
Both of them have been handed over to Sille-Oyan Police after lodging an FIR against them.
Earlier on November 9, the activists of WASE nabbed a women drug peddler identified as Dutta buri, aged about 58 years from Airfield/Muriline area of Pasighat.
The WASE activists came to know about her drugs business, when a team of the organization had gone to counsel drug addicted children in their homes. The woman was allegedly supplying and selling drugs to those drug addicted children and others, informed WASE President Omem Ering.
The matter was immediately informed to the Deputy Commissioner and DSP, who raided the house of the woman. Ganja packets and smoking pipes were recovered during raid.