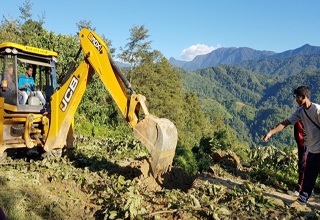 SEPPA, Nov 13: The road from Dumdila Tajo to Namchar Bagang village under Chayang Tajo circle of East Kameng got a much needed facelift on Saturday.
The 14 km stretch of the road, which was lying in a deplorable condition for want of maintenance, was repaired by the villagers of Namcher, Soshi, and Doripu Bagang on self-help basis.
Potholes were filled, drains and roadside weeds cleared during the two days mass social service. Machineries and equipments, like earthmovers were provided by Assistant Engineer Tafang Bagang.
The social service was conducted under the banner of Namcher Soshi Doripu Village Welfare Committee (NSDVWC) on November 11 and 12.